Ice Candy!!! Halo-halo!!! Sorbetes!!!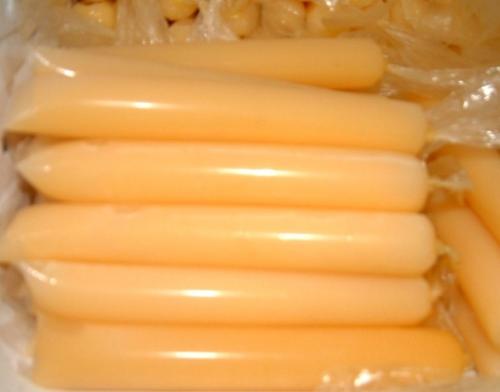 Philippines
March 6, 2009 10:41am CST
Summertime again! As the hot weather commenced, the "summer foods" started to be sold in the neighborhood. Sorbetes (Filipino ice-cream) are sold year-round but they are more in demand during this time of the year. Halo-halo (shaved ice with milk and different boiled beans and fruits) is another popular snack/dessert during summer. And... the different flavored ice candy! (Ice candy is a mixture of water, fruit puree or flavoring and milk in frozen in small plastic bags.) Lately, we made some mango flavored ice candy and sold it in the neighborhood. It's a blockbuster snack!

I thought only children will love it but even adults enjoy having one or two. Come on guys. Share your ice candy or other summer snack moments with a

so others will take a break and get one too.
9 responses

• Philippines
7 May 09
Oh you do remind me of my childhood. I remember back a few years ago me and my grandmother were preparing this Ice candy and we sell that to our auntie on another street because she has a sari-sari store. I still remember those that we have made about a hundred each day to freeze it and sell it to our aunt's store. I too enjoyed it since I can get a freebie by helping my gandma prepare it.

• Philippines
7 May 09
Oh, selling ice candy every Sunday is one of my source of allowance when I was in grade school. A neighbor makes them and we (my friends in the neighborhood) sell them in the market place. We put the candies in the ice box and shout "Ice Candy!!!" along the way. Some may consider it child labor but I love being a "businessman" that time.

• Philippines
15 Mar 09
Hi eichs1, good day to you my friend. Well yez, it's already summer because we already feel now the scourging heat from the sum which gives us more wet because of the weather condition. In order for us to avoid the heat we eat some cool foods like you said the ice cream, halo-halo and ice candy this kind of foods is good to resist the heat because of it's good taste together with the coldness of it. Me if ever i have a cash right know i think i will go to buy ice candy because this cool foods is also delicious and one good advantage of it than the halo-halo and ice cream is more affordable. . . Hehe... lol. . . I really love buying affordable goods because when buying that kind i do not waste a big amount of cash, i only just enjoying it. . . Well this summer, you my also try go to a beach to enjoy your summer vacation and try some exciting events. Well that's all my response! I hope i give a very informative response to you beautiful topic. . . Happy posting and earning my friend. . . Good luck to our earning career. . .

• Philippines
3 Apr 09
That's one good thing about ice candy, it is very affordable. Costs you Php5.00 ($0.10) the most while the least for halo-halo is Php 10.00 ($0.20). Ice cream costs more than halo-halo but not if you have the home made sorbetes peddled in your area. Oh, I forgot to mention that we also have "ice cramble" to cool us this summer.

• Philippines
3 May 09
Hello eichs1, thank you very much for choosing me the best response! Well the price of those cool goods was really affordable that's why until now many of people here in our country still do buy those good to resist the heat of summer season, then as I notice most of the children really love it and it's so very demading for them eating it. Well, I guess you are right, you forgot to mentioned "ICE CRAMBLE", this cool good was really popular here in our place as i remember after going to school, I Always do buy that with only five pesos! I really like it. Thank you again! And happy mylotting! God bless and good luck to our earning career!


• India
3 May 09
hi eichs1, my dear friend, i love ice candy and i love ice creams and i love milk shakes. in such a hot weather i love to have something cold all the time. my daughter who is fourteen months old also love to have something cold. she is not eating her meals becsue of hot weather. she likes to have ice creams, buttermilk and all these cold stuff. becasue she dont have much teeth , so i cant give her fruits like apples and all becasue she cant chew, otherwise i love to have apples, bananas, grapes, and many more fruits in cold chilled cold milk. it is one of my favourite things to have. sometimes i have it in my breakfast and sometimes i skip my dinner and have just a bowl full of milk with all these in it.

• Philippines
3 May 09
Different fruits on top of shaved ice and with milk is really yummy!

If you don't want to chew at all, then you can just make a shake out of the concoction. But the prices of fruits here in Metro Manila are too high. How I wish I am in our place in the province where fruits are so affordable and are even free sometimes.


• Philippines
9 Mar 09
Just this early morning i just ate halo-halo that i made last night it tastes almost perfect as i copied this recipe from internet with many positive opinions. I like eating this type of snacks cause it have mix different fruits. Banana, apple, pears are just some of my favorite so i really cant stop eating this seasonal snacks.




• Philippines
7 Mar 09
I agree with you. Cold fruits, drinks or snacks are nice sprite treats on hot summer days. I would have loved to make and sell halo-halo too together with ice candy but my neighbor beat me on it. In fairness, she has a delicious halo-halo with crunchy pinipig on top.


• Philippines
12 May 09
That was a very tempting picture! Good post! It reminded me when they used to sell melon flavored ice candies in our barangay. I loved those and I'd walk for 2 minutes to get to the store even though it's sooo hot and even when there are a lot of stray dogs lurking around :P We also used to make home made ice pops using those plastic molds that the sell in the supermarket, we have Milo-flavored ones :D Melon is still a favorite. Every time I go home to my province, I make sure that I go to Razon's for a good halo-halo. They don't make it as good in Metro Manila and it's so much more expensive. Thanks for the response on my discussion!