Go back in time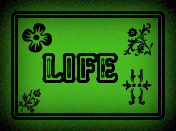 Malaysia
9 responses

• United States
7 Mar 09
I would go back and invest in Microsoft when Bill Gates first got started.

• United States
19 Mar 09
I would better educate myself. To be braver, talk to the girl I like in high school. I hate myself for missing so much chance to have a nice chat with her. I was too shy. Many mistakes I wish to fix back then.

• United States
19 Mar 09
i would still do the same thing. ive no regrets of what has happened to me . and i enjoy every minute of my younger years.. well maybe i might have shown love to my parents more when they were still alive..

• United States
19 Mar 09
If I were given that chance, i wouldnt change anything. I would go just to see what it was like back in maybe the 20's or 60's. And if i WERE to change soemthing, i would go back and tell Albert Einstein not to invent the nuclear bomb.


• United States
8 Mar 09
I think I'd like to go back to before I started getting using credit cards, and let myself know what's in store for me if I'm not careful. I'd even take some of my credit card statements with me. Maybe if I did that, then I could have them gone when I came back. Of course, there are some things you can't learn unless you experience it first hand.


• United States
7 Mar 09
Well if you mean go back in time to visit, I would love to visit King Arthur's Court or Victorian times. I read lots of books from that period and think I would enjoy a visit. I would probably get in trouble for being too outspoken for a woman. If you mean go back in time to change something, I would go back to Freshman year in college and start over from there. I made some not so good choices then and think I would be much better off if I could fix them.