That's Gonna Leave A Mark!

United States
March 9, 2009 1:23pm CST
Do you have any scars? Not like from adolescent acne or chicken pox, but some real scars... Do chicks really dig scars? I guess it depends on the story leading up to how you got it. Tell me about your scars and how you got them! I have scars all over the place, but mostly on my legs. The scariest one I have is on the side of my left knee and back of my left leg. My cousin, who was also my neighbor growing up, had an Akita he named Rambo. This dog would always glare at me but my cousin told he was harmless and as long as I didn't run past him he wouldn't get worked up and chase me. One day Rambo broke his chain while I was at the edge of my yard picking strawberries. He ran right at me and grabbed my legs in his jaws and started shaking his head back and forth. My cousin ran out with a BB Gun and fired a shot at him and he ran back into his dog house, but I laid there bleeding from 4 big gashes in my leg, two on the side of my knee and two in the back. The doctor said I was lucky he didn't break my leg. I need a total of 64 stitches to close all the wounds and now I have 4 scars to remind me not to go near Akitas.
10 responses

• Shingle Springs, California
11 Mar 09
I don't really have any scars. My husband does. Also dog related. He was 5 years old, his family had a German shepherd and he tried to take its food away. He has a scar from the middle of his forehead straight back over the top of his head.

• Australia
12 Mar 09
I have childhood scars on my feet and legs and a couple of knee/top of the shin ones from a motorbike accident...they exposed nerves and still hurt to touch. I have burn scars on my arms and the back of my hands from when I had my cafe. The hot sandwich maker stuck to my hand once when I dropped the kebab I was heating through as I picked it up. I had to rip off the appliance and some skin came with it. Yuck. I have several scars on my right forearm from playing with my dog. She's clawed me a few times while we played and my skin seems thinner now so the marks stay.

•
9 Mar 09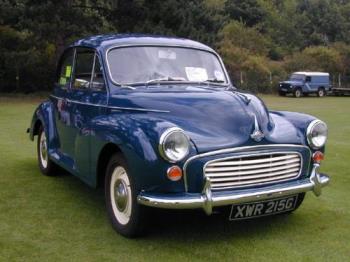 I want to take you back to a time before you were born Cyn. Back when dinosaurs roamed the Earth and p1ke was just a young lad keen to seek the independence of the open road. My motorcycle was my pride and joy. Worth more to me than my Mexico World Cup (soccer) medal collection even. The 250cc engine enabled freedom and adventure. Late one afternoon I was riding out in the glorious English countryside when a Morris Minor (see pic below) approached head on on the wrong side of the road. My reverie was halted and I found myself emulating a human cannonball as I was pitched head first towards a hedge. This in itself was alarming. I had failed to bring a basket to carry blackberries home in and now I was heading straight for a prime patch of them. What was also a tad disconcerting was that my fingers and the glove that encased them were still attached to the handlebars of the bike! This was serious. I am a right handed nose picker, how on earth would I deal with boogers in the future? You will be relieved to learn that in fact the fingers, hand and arm were all still attached to my shoulder. My body was catapulting at around 20 mph, but the bike was braking my acceleration. However, if I maintained this momentum I would soon be overhauled by the bike! I let go. Seemed an obvious thing to do. Sitting in the ambulance later I discovered that this is the prescribed action for bouncing bike riders that need to lose contact with their machines. I gained a rather impressive scar along my palm where they applied the same technology as was fitted to the Bionic Man and now I know when it is about to rain simply by experiencing a tingling in my fingers. The nice Policeman that they sent to arrest me (but didn't) informed me that contrary to my opinion, it was me that was on the wrong side of the road. He looked a tad upset when I suggested that he may care to attempt to copulate with himself. Seemed a reasonable thing to do at the time.



• United States
9 Mar 09
My cousin flipped over the handle bars while riding her bike and hit the edge of a guide rail and poked her eye out. Sometimes the most awful things happen from the silliest of accidents.

• United States
17 Mar 09
I have lots of scars. There's one on my leg from when I crawled over a carpet staple when I was a baby... Another one further up the same leg from dripping hot glue on my leg while making a wreath.... There's one on my other leg from a very bad car accident (got hit by a tractor trailer, lucky to be alive)...a few on my arms and chest from an abusive ex.... tiny ones shaped like a v between the first and middle fingers on my right hand. That scar is how you can always tell if someone is a hairdresser... we all have that one from cutting ourselves... Then there's one on my nose from the same accident as my leg... and a few more that I don't remember how I got lol... I'm just all marked up.

• United States
10 Mar 09
I have couple little marks/scars on my arms, I got them from playing with my puppy when he was small when he had very sharp tooth and liked to bite all the time. I'm hoping they will go away later :-( And I used to have a big scar on my lab from getting whipped by my dad but it's gone now.


• United States
10 Mar 09
I have scars, from hot coffee and running into a hot stove. The coffee scar is on my left arm and it happened when I was three years old. The scar from the hot stove is on my right hand when I ran into a hot stove at the age of 6-7. I have little scars on my legs from bug bites, but that's it. I don't "dig" scars, though sometimes we can't help how they got there. I definitely don't think someone should go out and get scars intentionally because they think chicks "dig them!"

• Philippines
10 Mar 09
yes i have a scar too... our trash before is placed in plastic bags. that afternoon i was in charge to throw garbage.. i was swinging the plastic back and forth not realizing that an open can is inside the plastic bag... but the plastic is really thin that the cover of the can ripped the plastic open, it hit the side of my knee and made a very big wound.. i cried hard not only for the pain but because of the blood coming out of the wound.. it was scary ... i still have the scar now....

•
10 Mar 09
Oh Glad I can leave out the chicken pox scars or I could be here all night! lol Ouch you are just about as bad as me for scars - I think I have found a soul mate! lol As for digging scars not really but my other half has a small curved scar beside his mouth - caused, wait for it .....by drinking tea out of a metal teapot when he was younger - I kid you not! That scar though is actually very attractive! Glad I am not a man as I could never shave my head - I have about 5 scars on my scalp through splitting my head open when I was younger many, many times, banging it off of rough cement walls and pavements etc! I have a scar in the cleft between my lower lip and chin where I put a tooth through my lip. A scar on my inner arm where I had to get a twig removed surgically, one on my tummy where I had surgery, another on my belly where I had a belly button ring before I got fat!. I have a 4 in scar on my lower back from surgery, a huge round 'hole' on my right shin. My ankle has a scar where I had a broken/fractured ankle when I was about 3, my brother gave me a 'backie' on his bike, ankle got caught in the spokes and kept going round - that was an ouch I can still remember. I have various small scars on my face, back, side etc that have come from small growths which may have ended up cancerous. That is about all of my scars but I have a nagging feeling that some are missing! lol xxxx