Did you like Twilight - the movie?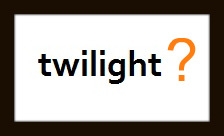 Malaysia
March 9, 2009 10:36pm CST
Did you like "Twilight" the movie? If yes, why? If no, why?Let us see how many of us likes it and how many of us dislikes it. As my opinion, the movie was very bad, the movie has no action at all. It was boring from start to the end. Did you know, I fell asleep while watching it. I wonder how many of them fell asleep while watching it in the cinema? Many others was commenting that the story book was even better.
6 responses


• Philippines
10 Mar 09
Twilight is a fantastic movie, it is the story of extraordinary love between two people in an unlikely two different world. Their struggle to fight odds and burning desire to be together holds the film together. The whole thing about Twilight is not about the story of a vampire and a human being, it is about the amazing story of an irresistible guy-next door who falls deeply in love to a sweet shy girl. Edward is very protective, thoughtful and romantic, a kind of devotion every woman in this world looking for in a man.After watching the film you've got to believe that Prince Charming is as real as thunderstorm.

• Australia
10 Mar 09
Hi there! I have seen the movie few times and I really enjoyed it. I agree with you that there's no much action in the movie compare to other vampire's movie and I think that's the reason why some people like it because it's more romantic love story. I've also read the books and now just finished the third book which is Eclipse. The book has more details compare to the movie and yes, I also think that the book is better. [em]happy[/em

• Philippines
10 Mar 09
Hi heehaw. Well, I would say it's okay, not that bad but not that good. They say that it was the next thing as big as harry potter but I don't think it does. I agree that's pretty boring but there's some scenes that I really enjoyed and I agree with Devvonn, it was a bit overrated.

• Philippines
10 Mar 09
hi friend!!!! a lot of people seems to be talking about this movie/ films. some say this was really good and some say this was really bad. But for me this really good!! I like the movie so much!!! really really like it!!! this movie was so awesome. Great cast and plenty of action..its a different type of vampire story i loved it. movie was great even if you have read the books. There are a few disappointing parts, but otherwise worth watching.

• Canada
10 Mar 09
Sadly, I find that the whole "Twilight" thing was overrated. I did watch the movie, I did not want to, but I did, and it was terrible. I would much rather have just sat in the chair and watched nothing then to have sat through this. Wish there was not a sequel, but the many crazed young woman needed another one ...