Borat faces lawsuit and ban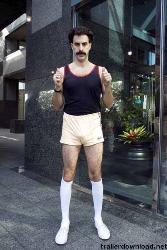 United States
November 10, 2006 11:12am CST
As Borat marches towards the $100m (£52m) mark at the global box office this weekend, the film's producers are facing legal action as well as a ban in Russia. Mahir Cagri, who shot to fame on the internet in 1999 with a website showing unwittingly comical photos of himself sunbathing, says Cohen stole his idea and is considering legal action Two Carolina university students claim the film's producers found them in their frat house and loosened them up with alcohol before getting them to sign an agreement and the footage of a prolonged drinking scene with Borat in which they make misogynistic and racist comments are defamatory. Its another film that stereotypes races. Anyways what do you think .....is the claim justified or is it just a few people tryin to cash in on the money and fame?
3 responses

• Canada
10 Nov 06
Hmmm...I think it is justified. Because I saw on the news that some people didn't know it was going to be shown worlwide and they were really upset and embarrassed about being made a fool of. I haven't seen the film so I don't know to what extent to how he was embarrassing people.

• United States
13 Nov 06
I think they are just trying to make money. My feeling is this - I don't care HOW drunk you are. Never say anything aloud (or for that matter write down) what you don't want other people to hear. If you don't want people to hear it, don't say it. And as far as being drunk - I think alcohal makes people speak truths they wouldn't say if they weren't drunk. So the college students are most likely racist. You either are racist, are you aren't. If you don't want to be construed as racist, don't make racist comments - EVER! It's not funny. And they are just using being drunk as an excuse.

•
13 Nov 06
I don't feel sorry for these people at all. Nobody forced them to say the things they did. They did it on their own. They are just embarrassed now. I thought it was a funny movie. It's not for everyone but it's funny.