Rolling Away!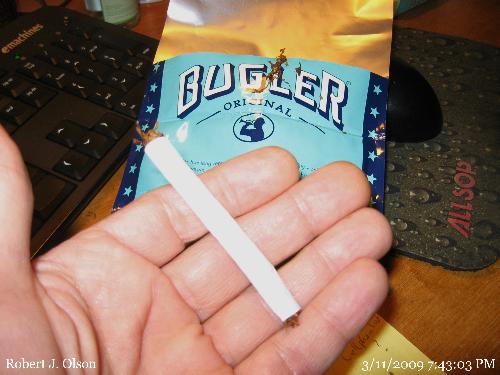 United States
March 13, 2009 10:59am CST
Well as this photo shows I am getting really good at rolling my own smokes. I had not done this art form for many years. Due to higher taxes on smokes I resorted to switching to rolling my own. I spent $12 a day prior on smokes. Now I just smoke one small pouch which is les than $3 a day. Have you switched smoking habits in any way due to the higher taxes now? If you quit smoking, when did you stop and how so? HAPPY POSTINGS FROM GRANDPA BOB !!~
8 responses

• United States
13 Mar 09
Quit smoking? Which time? I had quit many times and each time was cold turkey. Last time I quit was Dec. of 2007, again cold turkey and so far so good. Each person have their own way they can quit when they want to quit. $12 a day was for how many cigs? and now with the $3 dollar or less how many is it that you smoke? Sounds to me like you are cutting back. Good luck if you do try to quit.


• United States
13 Mar 09
That's such a true statement. I have the cough etc all the time. But it's worst in the mornings when I wake up. Oh well. HAPPY POSTINGS FROM GRANDPA BOB !!~

• United States
13 Mar 09
I see you're hand rolling. You're way better than I ever was at it! I got a machine that put filters on the cigs and made them neat and tight. I've lost it since then but it was great. They don't cost much and you'd at least get a filter on your coffin nail.

Although I'm not sure what kind of crap they put in those filters! Bugler is good, so it Kite.

• United States
21 Mar 09
Boy is my face read I just started a discussion about the same thing. I am sorry. But yes I have done the same thing. I have never done it before but like you said with the raising taxes and the economy as a whole I started rolling about a month ago. We use a machine and it is never easy yet. Either too tight too loose you name it lol.

• Australia
20 Mar 09
I gave up smoking when I had my first child. It wasn't on purpose - I just didn't feel well enough to smoke, so I was lucky it was easy to give up. After I'd had the baby, I didn't see any point in starting the foul habit again. My husband still smokes - and it's not doing him ONE BIT of good! He used to roll his own for many years - and even smoked a pipe for a while - but he's back to ordinary ones now. Unfortunately.

• Canada
17 Mar 09
I don't smoke myself, but my son does and he has had to roll his own for years,

• United States
16 Mar 09
Let's make a deal you and I, ok Grampa? How about the day I get over my boyfriend breaking up with me is when you stop smoking? It's going to be more like, "Which one would happen first?" *LOL* Anywho, I thought I'd throw that one in there. At first, I had to squint really hard because I didn't know if that was a joint or a smoke. *Pleiades

• Philippines
14 Mar 09
Hi Grandpa Bob! I haven't quit smoking but I have lessened my smoking nowadays. I usually smoke around 15 sticks a day but has reduced it to ten now. Hopefully I will be able to reduce it to less than ten soon and eventually quit completely. I just wonder when that will be. LOL


Take care and blessings to you! lovelots..faith

•
13 Mar 09
I was cinsidering doing this AGB but I would have needed one of those little rolling macj=hines and I would have had to put filters in too which would have saved a fortune but I decided the time was right to stop smoking instead with he help of a smoking cessation chemist patches and a nicotine inhalator, it will be 10 weeks on Monday and I am very proud of myself! lol xxx