My dog Ashley

Philippines
March 13, 2009 11:02am CST
Adapting a dog as a pet is not an easy task. It is the same as adapting a child. I consider my dog Ashley as my own child. You have to invest money in looking after the needs of your dog. I invest a lot of money in buying Ashley's food and shampoo. Dogs are trainable. They can be trained where to release their wastes and where to urinate. They are capable of learning tricks. They can recall words and commands. They can learn by repetition. Don't give them salty foods or seafoods for it will irritate their skin . Have two kinds of shampoo for them. One for anti-parasites to kill fleas, lice and ticks and the other for anti-bacterial to prevent against mange and other skin diseases. One good shampoo for this is paraguard shampoo. Have them a bath at least once a week. When giving dog a bath, let the shampoo stand on its fur for about 15 to 30 minutes. When dogs are vomiting because of indigestion or they were able to to eat unpleasant food, have them eat brown sugar. It has healing effects on them. Many times my dog Ashley became sick because she is fond of eating woods and plastics. Whenever she experience vomiting, I just give her brown sugar to eat, and after eating, her condition improved and she became well again. My dog Ashley is choosy in foods. She will not eat a plain rice only even though it has sauce, it must have a viand. And not ordinary viand, it must be chicken, pork or beef. I invest lots of money on buying her foods. Her shampoo is costlier than my shampoo. But I don't mind investing money for my pet. It is such a joy for me to buy good food for my pet. I want to give the best for my pet as I treat her my own child. I know I will not get returns for investing for my pet, but whenever I come home, my heart overflows with joy whenever I see my dog Ashley very much excited waggling her whole body just to grace my coming. All my stress is gone. It is something money cannot buy. How about you ? How do you pamper your dog ?
4 responses

• Canada
14 Mar 09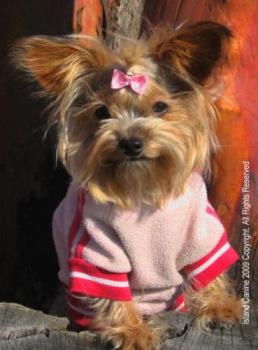 Hello and I welcomed your discussion. I am happy that I am not the only one that cooks for my dog. She too gets rice but only with Chicken. I did not know that fish can irritate their skin as sometimes I give her Tuna, halibut or salmon. She likes it. I do not give her red meat or salty foods but lots of vegetables that are good for her such as carrots, broccoli, peas, beets and sweet potatoes. She loves. She also like romaine lettuce. I also feed my dog white or brown rice with the chicken and vegetables. Roxy also eats a human grade premium kibble inbetween her cooked meals which she gets three times a day. A great website for Dangerous Foods Not to Feed Your Dog can be found here: http://peteducation.com/article.cfm?c=2+1661&aid=1030 Helpful site! A Must Read for All Dog Owners. My dog uses almond and vanilla aromatherapy shampoo/conditioner and is bathed once a month. Roxy chooses which shampoo we buy for her by simply letting her smell it. If she shys away, we don't get it. If she stays and sniffs then it is acceptable to her. Roxy eats much better than me and has a better wardrobe than me also. Her shampoo is a far better quality than I use but she is worth it. Money isn't an issue when it comes to the dog. Currently my dog sleeps with me but she is having a canopy bed made for her that swings as she likes to rock to sleep. Roxy has the softest blanket in the house and has total access to any furniture to lay on and any room to frequent. She in hypoallergenic and doesn't shed so is allowable. Roxy is loved by everyone who meets her. She adores chest rubs and has a brush at least two times a day, often more but before she goes to bed and when she wakes every day, along with belly rubs then too. Roxy is rich with friends and has at least three walks a day. If it is cold out and she gets cold, i will pick her up and carry her as she gets warmed from my body heat. She has two vets. One traditional and one homeopathic. Roxy gets the best medical treatment possible when required. I do pamper my pooch but she is worth every bit of it. Often people tell me that I spoil my dog. I tell them that she is not spoiled, that she is special and she is.

• Philippines
14 Mar 09
How blessed Roxy is to have you as her owner and I admire you for having a great love for your pet. Thank you for sharing your tips in taking care of dogs. I amire people who have great love for pets. Thanks for participating in this discussion. Happy Mylotting. Have a great day.

• Canada
15 Mar 09
Thank you and you are most welcome. I am blessed to have such a nice puppy. She is so good to me. I too enjoy happy stories of animals whose feelings are considered when caring for them. There is nothing more heart breaking than neglect. Roxy was neglected before I got her so we are sort of trying to make up for lost time. She will be two in May.

• United Kingdom
13 Mar 09
You dog, Ashley, sounds adorable. She sounds a very picky eater and well behaved. I have two miniature poodles called Secret and Magic. They are quite fussy about what they eat. I buy dog tins from my local supermarket for them. They cost quite a lot so it is excellent when there is a special offer. If so I stock up with many tins. my dogs' have non-moulting fur that doesn't upset my allergies. They require brushing daily, baths sometimes with shampoo that the vet sells and they see a professional dog groomer every eight weeks. We live on the edge of a coastal town so we have a dog friendly path and the countryside at the back of our home. We live just three miles from sandy beaches that have sand dunes my dogs enjoy racing up and down. My biggest expense is paying the professional groomer and she visits our house to cut down on stress for my dogs. I give my dogs pills to prevent worms and put flee treatment on their shoulder blades. I visit the vet if necessary with one or both of them. They are loving and loyal companions. Getting a dog was such pleasure and I have to say getting another was double the delight. I love my dogs. I gave them a carob Easter egg and some hide shoes this week.

• Philippines
14 Mar 09
How blessed Secret and Magic to have you by their side. You are a great dog owner and I admire you for taking very good care of your dogs. Thank you for sharing your experience with your dogs. Truly having dogs are great. Happy Mylotting. Have a great day.

• Romania
13 Mar 09
my dog is an adopted one, almost for an year. she's a black dog, with a lot of hair, brown eyes. she was an orphan, i found it on internet, i liked her and i adopted. recently, she has been sterilized, and we kept her in the house. after the operation, she was just like a human, she suffered, but now she is fine. she sleeps at day and at night she barks a lot. but we love her like our child, we treat her like one because she acts like one.

• Philippines
14 Mar 09
How blessed is your dog to have a loving owner as you. I admire you for showing great compassion on your dog. Thank you for participating on this discussion. Happy Mylotting, Have a great day.

• Romania
14 Mar 09
me too i consider my dog as my child. i adopted my dog from the internet, from a very good person who takes care of dogs without no owner, dogs from the streets. now, i want to say to you that my dog is a great dog, even if it has no bread, it's a good dog. i pamper her with good food, she doesn't like to take a bath, i talk to her very nice. so, all dogs are good.