The Water Came Out Hot When It Should Have Been Cold! Duh!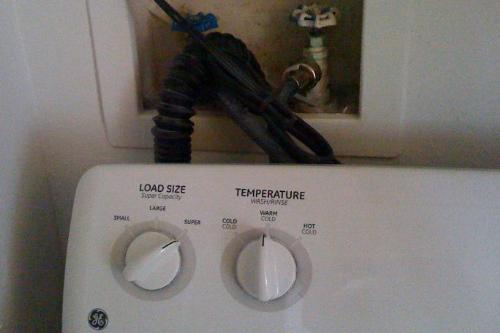 United States
March 16, 2009 8:23am CST
I recently moved into a new condominium and was doing my laundry for the first time there. As you can see from the picture, there are three settings on this washing machine, cold wash and cold rinse, warm wash and cold rinse, and hot wash and cold rinse. Well, I was trying to figure out why it was that when I did a hot wash the water was icy cold and when I did a cold wash the water was boiling hot! Even when the "cold" water rinse came on that was boling hot too!

Well, like an idiot, I went through probably around 30 loads of laundry and playing with the water, turning up the hot and down the cold with the faucets themselves. Until one day a little light bulb went off above my head and I got a brilliant idea. Maybe, just maybe, some idiot crossed the hot water hose with the cold water faucet and the cold water hose with the hot water faucet. Well, what do you know? I switched the hoses and the problem was resolved! I cannot believe that I didn't figure this out a lot sooner, but the thing that really gets me is the fact that the person who painted this place did not even bother hooking the hoses back up to the correct faucets!

Oh well, at least I figured out a tough (LOL) problem on my own! Pretty good for a blonde I might saw too! So, have you ever had a problem like this before and been able to resolve it? I had to laugh now that I figured it out. But it wasn't funny before when I was boiling all of my laundry that was supposed to be washed in cold water only!
Have a great day and happy myLotting!!!

7 responses

• United States
16 Mar 09
That was my thought when I started read ing this that the hoses were on wrong . DIdnt take 30 loads to think it either lol What gets me is go into a wash room and the cold water is hot and the other way around some feller wasnt a good plumer lol

• United States
17 Mar 09
That is true! I can't believe it took me that long either but I had a lot of laundry to do and that wasn't the only thing I was working on either. Oh well, it is fixed now thank goodness!!

Thanks for your comment and have a great day!!!


• United States
17 Mar 09
Well that sucks that they hooked it up wrong! I am glad that you figured it out though! Good going!



• United States
17 Mar 09
My ex. did that. And I fig. it out right off as the washer is never wrong. If you ever come across the fact that your furnace is not working before you call gas company. Change the filter first and it mite just work. Your friend onlydia

• United States
16 Mar 09
That gave me a chuckle! Every house has it idiosyncrasies and mine is no exception. The faucets turn the wrong way and the lock on the basement door turns to the left to lock instead of the right. It took me awhile but I got used to it. I can't believe the painter person was careless enough to hook up the water wrong. You're probably lucky he tightened it enough so it didn't spray all over the place!

• United States
17 Mar 09
I can't believe he was careless enough to do that too. I mean he could have tested it or whatever. Oh well, what can you do! And yes, I am glad that it was tightened enough so it didn't spray everywhere!

Thanks for your comment and have a great day!!!



• Philippines
5 Jan 10
i havent experienced this but i would love to. it would save us a lot in electricity bill.. just do not make it too hot though. LOL

• Philippines
1 Jan 10
LOL I am soo not "house trained". If ever that happens to me, I would just assume that the labels were switched or something and would just think to open the "hot" faucet when I need cold water and the "cold" faucet when I need hot water, or Id just put the "correct" sticker label on top of the faucets. I wouldnt even think of tinkering with the hoses.

I vaguely remember a really dumb incident. I just forgot the exact details of it. I just remember that I was doing something with a machine or gadget of some sort. I was well into what I was doing then I started to notice that the effect that I wanted to make is not happening. I think it took me a good hour to try and figure out what was wrong with it or maybe what I was doing wrong. I thought that maybe there's a blackout or something. When I looked at the socket to unplug it, sure enough it wasnt plugged in the first place! ...so that's why it wasnt working.