A Rooster down the street is making a lot of noise today!

United States
March 16, 2009 10:23am CST
There is a rooster down the street and he just will not stop yelling lol. I ussually cant hear him because he lives about 2 blocks away but today I keep hearing him. Maybe he got loose? Do you have roosters in your area? Would you keep a pet rooster if you could?
10 responses


• United States
16 Mar 09
I would have one with hens to if I where to get one. I would like fresh eggs.

• United States
17 Mar 09
there is a rooster down the street from me too poor thing - its internal clock is all messed up instead of crowing in the morning he crows in the middle of the afternoon I wouldnt have one but to each their own


• United States
17 Mar 09
I can understand how annoying this could be especially very early in the morning. We live in a heavily populated area in the city so nobody has a rooster. I wouldn't want to own a rooster. Wouldn't be my pet choice. Some neighbors have dogs but only one neighbor has a dog who is exceptionally noisey and drives me wild at times. They put it outside and all it does is bark. They are home and just don't bother to bring it in the house unless it's been yapping for an hour or so. Other neighbors are also very annoyed.

•
17 Mar 09
Wow! I haven't heard a rooster crow for years. Nobody seems to keep chickens these days. When I grew up we had a chicken coop in the garden - it was quite a large garden, and I remember many in our neighbourhood had chickens too. So I would not hear just one rooster, but several. They were good alarms clocks I suppose.

- Derek

• United States
17 Mar 09
We have one about two doors down, and when we have the windows open in the summer he is the first thing that we here, he is our alarm clock in the summer. Our neighbors across the street are about 50 cows, so we got the rooster and a whole lot of mooing. Plus we have a horse farm near by, and people are always riding down the street on them. as you can probably tell i live in farm country, and i love all the different animal sounds it can be real peaceful compared to the city life. If things get any worst we might just add a few chickens and a rooster and a couple of milk cows to our family someday.

• United States
17 Mar 09
no roosters where i live. no, i would not want a pet rooster. glad my neighbors don't have one either. they are suppose to be in the country & not kept as a pet to start with in my opinion.

• Malaysia
16 Mar 09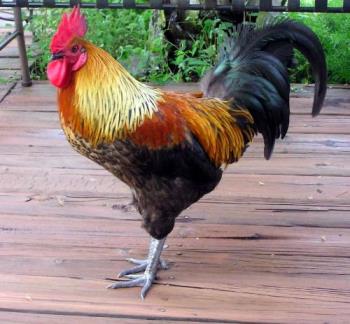 KENNY ROGERS ROASTERS..~.. LOL! when you said "roosters", my mind straight away focus on Kenny Rogers Roasters. My faves spring chicken outlet near my living area. OK ~ back to your discussion, yeah! there are roosters but not so close to my house and very rare crossed by my house. I don't know who are the owners. Hopes none of my neighbors got roosters, as it can freely encroach to others house compound, make some dirty works and disturbance. But, if I live in one nice village with huge house compound area, that's fine. I love to have roosters as many as I could. ....................

• United States
16 Mar 09
LOL! rooster nowadays is yelling at anytime without making sure whether it's a daytime or night time! there's one at my area too, yelling at around 9:30pm daily. i can't stand him truly because when he starts yelling it would last at least for another 30 minutes. after 5 minutes break, he would continue again & again... yes, i will keep a pet rooster if i could, but not for the purpose of waking me up in the morning because i don't think he knows the time better than human. LOL! i will keep a pet rooster in order for me to make some nice fried chicken when i'm hungry in the weekends...

• United States
16 Mar 09
So you have a noisy neighbor to it sounds like.

• Canada
18 Mar 09
oh gosh, I live in the big city there are no roosters here or any kind of barn animals, but we do hear yowling cats, they are a nuisance at times, but we only hear them in the summer.