What does silent water runs deep mean?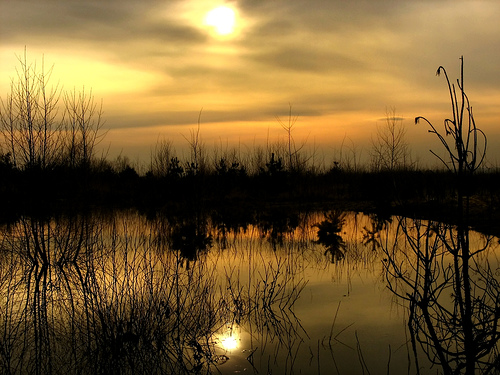 Philippines
6 responses

• Philippines
17 Mar 09
Hi there! When applied to a person, it means that someone who doesn't talk much, who rarely talk often say something meaningful.

• Philippines
17 Mar 09
Hello Nanaya, thanks for responding. Thats really true, it doesn't that if your a silent kind of person you don't have anything meaningful in mind to tell. Do you have a favorite saying that you can share to us too, and why'd you choose it? happy mylotting.

•
17 Mar 09
I know it as 'Still water runs deep' - people who have a quiet manner often know a lot more, or have desires, than they let on. How anyone learns English beats me! haha We have so many sayings that at first glance mean absolutely nothing yet are in common use. Indeed, many books have been written on the subject.

• India
17 Mar 09
Still waters run deep is used to refer to people who stay calm on the exterior and get things accomplished by not being clumsy or loud. There is one more saying that is similar to it. "Be like a duck. Calm on the surface, but always paddling like the dickens underneath" A person's calm exterior often conceals great depths of character, just like the still water that is not so still underneath. Appearances are decieving.

•
17 Mar 09
Hello there, for me the saying " Silent water runs deep means that Those silent people have a deep personality. I got a friend she so very silent in school,don't have lots of friends, she only talk when it needed but she's very intellegent and creative in her own way. One of my sayings in my life is "Don't judge the book by it's cover".It means that you don't judge the person based on his/her physical appearance the important is his personality and have a good heart.

• India
17 Mar 09
Have you ever been in the middle of the ocean or a very wide river? You will see that the middle is always calm while the waves are lashing at the shores. As we all know the river or the ocean is the deepest at the middle and shallowest on its banks or shores. So similarly, a person who is quiet on the surface, is usually a volcano of sorts inside…bubbling with thoughts and ideas and preferences and inferences. It of course does not apply to all quiet people but most of them are similar. I keep my distance from them…I am a garrulous type and like people who are open, who don't have pent up emotions inside. A favourite saying of mine is 'old sins have long shadows'

•
17 Mar 09
I know the expression as 'still water runs deep'. As far as I have know, it means that people who don't talk about things have something hidden within them. Or someone quiet has deep thoughts - something like that anyway. There are a lot of sayings that I like, but when that I think is very true is 'beauty is only skin deep'.