Sunrise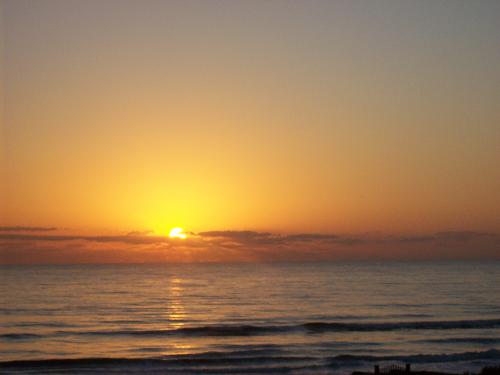 United States
March 17, 2009 6:21pm CST
We were on vacation in Daytona Fl for Bike Week and I got this picture just as sun was starting to rise.
5 responses

• Philippines
23 Mar 09
wow... that was a lovely sunrise. I'm wishing I could catch a lovely photo like that. On other hand, sunrise can only be seen by those people that wakes early and I'm not one of them. Keep on shooting... Maybe next time, we'll be seeing your sunset post...

• United States
19 Mar 09
That's beautiful! I'm not an early bird, so most of my pictures are sunsets. Love all the beautiful colors the sun puts of, golden, orange, purple, pink!

• Philippines
17 Mar 09
Wow, that picture looks great! I love sunrise and you really took a good shot at it. Well, hope you enjoyed your vacation and that's nice of you sharing that pic


• United States
17 Mar 09
very nice smurfettewv, i went to daytona once and stayed right on the beach, like there is any other place ot stay it was cool every morning sitting on the balcony watching cars drive down the beach, do they still do that? hope you had or are having a greta time. that shot is one in a million talk about capturing a moment in time.