If you could be the president, would you fire everyone and just start fresh?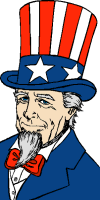 United States
March 17, 2009 8:45pm CST
If you did somehow become the president, would you clean house? Would you just start all over and rehire all new people? Would you work with the staff that you already have? How would you choose your staff? Would you accept resumes and conduct your own interviews?
4 responses

• Philippines
19 Mar 09
Hi eaforeman dear! In my country, I think I will be firing everyone and hire people I trust and who are capable and have a very good reputation that precedes them. I would see to it that all of my staff can't be bought or bribed and that their integrity is much more important than the glitters of gold. an more important I would hire people who are wise, intelligent and have hearts! Take care and blessings to you! lovelots..faith

• United States
20 Mar 09



I know that you would hire the right people. Appreciate the response and have a great evening. I hope the right people make it into very position. Have a great evening.

• Turkmenistan
19 Mar 09
Of course I had never thought about anything like this before, but I think that I would need to evaluate everyone's performance and track record before I decided whether or not to keep them. I do not think that people should be let go based on the fact that they worked for another administration. Everyone should be treated fairly.

• United States
20 Mar 09


I agree. If someone has been good at their job, they should be allowed to stay. I think your right about the evaluations. It is only fair. Appreciate the wise answer and good post!


• United States
20 Mar 09



I agree. There are those who would be a wonderful help. Your right, we need to be fair about it. It would be hurting yourself, to loose a good staff person. Appreciate the response.

• United States
18 Mar 09
That is a very easy question to answer. I would first fire the current president and then start afresh.

• United States
20 Mar 09

hI, I truly think that this is God's turf. I think these are the end times. It is just my opinion. It is my humble opinion. You have always known that I was for McCain. I am sad about what is happening now. Hes taking away rights and taking them fast. It is going to dawn on everyone, sadly, its a hard way to learn, and a painful way to learn.