Who's your Doggy?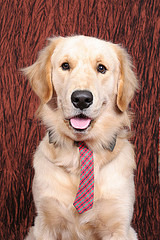 Malaysia
March 17, 2009 8:51pm CST
I've always wanted a pet dog but never got around to having one. Living in a apartment with 'no pets allowed' rules is a bummer. My dream dog would be a golden Retriever. They've got the right amount of fur and they look awesome in the golden color. So majestic. What are your favorite type of dog breeds?
4 responses

• United States
20 Mar 09
I have a yellow female lab named Ginger who is totally awesome. I did not want a dog at the time but my husband said he bought me one for my birthday. She wasn't the one i picked out but when i walked to the top of the hill i yelled come on and the one i choose came half way then stopped and Ginger ran right past her right into my heart. I was sold. Then about 4 months later i wanted her to have someone to place with so i rescued a 6month male choc lab mix from a neglected home. People think he has issues cause he intimidates strangers until he knows them, not a big fan of men, and very protective of our family, including my husband. Well those are issues i can live with. I have been told that golden retrievers like some alone time which is great for those of us who have to work. My uncle wouldn't have anything but a golden.


• Philippines
18 Mar 09
my doggies are collies and sherpei! heheh love them!

• United States
18 Mar 09
I would love to have a border collie. They are so smart. I have watched obedience trials and such on TV, and the border collies always do best. You have to have a big yard or a house in the country for them though, because they also have a lot of energy to run off. My other favorite is a Mastiff. They are so big, but so gentle. I saw one at a rescue once, and her idea of guarding the house was to lay in front of the door so no one could get in!