Army patrols Alabama streets after shooting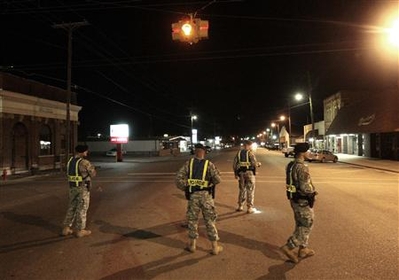 Lancaster, New Hampshire
March 18, 2009 9:16am CST
I waited a day before posting this because I wanted to get all the facts and confirm it first. It is a vile shame that I had to learn of this from foriegn press. I also included a photo. After the dealy shooting in Alabama last week, it seems soldiers from Ft. Rucker were patroling cordon points in coordination with local police. this has been confirmed by Lt. Col. Scott Wile, Director of Public Safety and Provost Marshall at Ft. Rucker. This is a direct violation of Posse commitatus, a law which stritly forbids the use of federal military in civilian law enforcement except uner very strict constiutional conditions, which in themselvs are almost non existent. It is still a standing law and upheld. [i] "The Posse Comitatus Act "remains a deterrent to prevent the unauthorized deployment of troops at the local level in response to what is purely a civilian law enforcement matter." -- Major Craig Trebilcock, a member of the Judge Advocate General's Corps in the U.S. Army Reserve" [/i]An inquiry is under way.
4 responses

• United States
18 Mar 09
I've been trying to find more information on this without any luck; it's for sure..real? I mean I saw that picture, but I wanted some official word before I said much on it.

• United States
19 Mar 09
Thanks for the update x. That puts things more in perspective.

• United States
19 Mar 09
I heard the interview Alex Jones did with the Lt. Col. As a former Army Officer myself, I believe that Lt. Col. had no idea he was doing anything controversial. It sounded to me that the Lt. Col. intiated this action on his own merely as a measure to further good relations between the Army and the civilian community. Seriously, I'll bet that Lt. Col. knows by now not to it again.


• Sheboygan, Wisconsin
18 Mar 09
One more shot at the heart of the US Constitution.

• Sheboygan, Wisconsin
18 Mar 09
I'd be camping in front of my congressman's home and office demanding answers about this one.

• United States
18 Mar 09
This is a shame. US soldiers are not used against US citizens so as to never develop a mentality of US vs THEM between the armed forces and the civilian population. We want the US military to think of themselves as being among the people, not the rulers, overlords, or bosses of the people. This already is a big enough problem with some police officers. We don't need this problem with soldiers, too.

• United States
18 Mar 09
Xfahctor,I have a hard time believing you or anyone else here is suprised at this blatant act of spitting on the constitution! We have an elected president who has no respect for this document except for when it benefits him directly. The constitution, as we know it now and as we knew it in the past, may be a museum piece by the end of 2012.