Is LDR (LONG DISTANCE RELATIONSHIP) WORTH THE WAIT?

Philippines
March 24, 2009 5:13am CST
Okay my boyfriend and I met thru yahoo chat he is a filipino too who happens to be in the united states..I felt happy and glad that we were on the same track i know he loves me and i do love him too..but there is something missing and i know what is it his physical presence...We have been in this relationship for about 7 months now but I am not asking him if he have plans of coming over to visit me because he still have relatives here I am afraid he will get offended if I ask him..He told me he have plans but it's not final yet...Shall I open up the topic and ask him again?If you were on my shoes would you? And will you wait for him too?
5 responses

• Philippines
26 Mar 09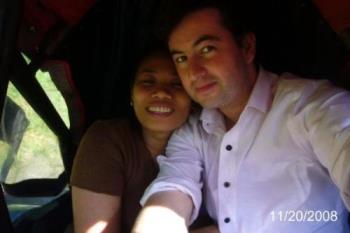 Being in a cyber long distance relationship is not good

Not unless both of you have met before.. I have been in that kind of situation a long time ago, the American guy said that he is coming here in the next 3 months or so...when it came he said his plans were postponed due to some family emergency problems... We had a cyber LDR for two years I always asked him to come over here and he never did. I lose my patience and stopped talking to him. After a year of not talking to him, he came here in Manila and we met personally but I didn't like him so we just had dinner and a conversation.

October last year, a Belgian wrote an email to me and we met last November 16, 2009. We have spend time together and went together for a nature trip (trekking). He is my bf now and we are getting serious. We are going to another trip this coming May. He is the apple of my eyes right now.


• United States
26 Mar 09
My husband and I met on yahoo too. we started our relationship online, we made sure we talk everyday, online, over the phone, email and mail letters. we did that for 2 years until he came to the Philippines. he stayed in the in the philippines for 3 months and on his second visit he stayed for 6 months then we got married. Im here in the states now...its very important that you guys communicate as in every day...tell him how you really feel..if you want him to visit, tell him. I would wait for him if i love him that much...

• Philippines
6 Apr 09
hi tipay, I sympathize with what you feel. I am in a long distance relationship also for one year and 4 months now.He is the first one who told me about going here in the Philippines. The economy in their country is not that bad when he told me about visiting me but the global crisis soon enters. That became a major problem of him. After that is the sickness of her mom. He is the bread winner in the family and he is the one who can afford to take care of her sick mom.He also help his one brother because the latter lose his job also due to financial crisis.Because of those problems, I no longer think of him visiting me.But after long months again, my parents keep on asking when will makes a visit. I no longer want to ask him but I was pressured because of my family. And everytime I am forced to ask , I can see how stressful he is answering. That makes me so sad and avoid asking him about visiting me here.

However, in your situation, I think there is nothing wrong asking him. You are his girlfriend and you have the right to ask that.Well, all I can say is that for your relationship to work, both of you must be patient.There must be always understanding on both sides and of course spend time with each other always. There are so many problems both of you can encounter in the long run. But as long as you love, trust and continue your communication with each other, then for me, nothing will be impossible.There are also many cases in which LDR works and I hope it will work both for you and me.

. I can say that I can wait for him as the old saying goes "True love can wait" . Cheers


• United States
28 Mar 09
My wife and I were in a LDR for almost a year before we got married. You can make it work, but it is hard to be apart sometimes. How well I remember wanting to be here with her and not being able to. That was the hardest part to deal with though.

• Delhi, India
24 Mar 09
I think it would be advisable to touch this topic, whether he would actually come and see at your place. I see there is nothing wrong in asking, if he is an honest fellow and wishes to have 'true' relationship with you, he might give you some positive answers to your querries. All the best.