Do You Like To Play Pranks??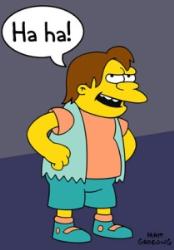 United States
November 10, 2006 6:47pm CST
Are you a pro prankster? Describe some of your greatest achievements
10 responses

• United States
11 Nov 06

I got a prank for ya, check this out.... Take an old purse or wallet and some fishing twine and kind of sew the fishing line through the wallet or purse so thst it holds the dollar on top. Put it in the middle of the street and when someone sees it they will usually try to pick it up and when they do just keep pulling the fishing line and see how far they will chase it before they realize the prank. What do you think of this one?

• United States
11 Nov 06
Haha, yes I have seen this one on TV. It was funny until I saw a homeless man chasing it, and then I got sad!

• United States
11 Nov 06
I never thought of that but it would be sad to see something like that.

• United States
23 Dec 06
thank you for your response, I did not mean to bring you down ;-)

• United States
4 Jan 07
Oopsie. I found this discussion on pranks because I also started a topic on pulling pranks of my own, explained one of my pranks, & did not know about this one until afterwards. Time to tell another one. I used to be part of an online group of maybe 6 or 7 people that we used to chat using AIM. One of us started a room, & we were all in it, chatting, joking around, pretty much just haing fun. One of the other online friends came online, so I came up with this idea & we did it. We each opened an IM window with her, & typed in, "BOO!" but waited. In the temporary chatroom, I counted down, "3" ... "2" ... "1" ... "GO!" & we all sent it to her at the same time. We all had a good laugh with that one, & she thought it was "cute."

• Pakistan
29 Dec 06
once i went to watch cricket match,,, and due to some reason suddenly guards started closing the gates... huge crowd who wanted to see the macth was left out... I saw a guard standing at the main door and he was yelling " Who is Faraz's cousin",,, Faraz might be some VVIP person..so I yelled "its me " The guard took me inside the stadium,, and once i was in... i lost him by mixing in the crowd,,, Oh it was fun and I really enjoyed it(Y)

• United States
29 Dec 06
that is so funny!! I bet the real cousin was mad when he got to the gate and was turned away, haha. congrats on getting into the cricket match and thanks for sharing your story!

• Singapore
11 Nov 06
I dont call myself a prankster though i played prant on my friends sometimes and it is important as to who you are playing it to and the level of the prank

• United States
11 Nov 06
A few days ago, my friend and I went around campus and epoxy glue'd a bunch of quarters and a fake $100 bill with a picture of ben franklin smokin' a joint to the ground outside. We got the glue by telling an art professor that my shoe broke and we needed a little to fix it. A little goes a long way with that stuff. :)

• United States
11 Nov 06
Yes, that is a good one... did you stick around to watch the results?


• United States
23 Dec 06
wow congrats on being the laziest person ever! you could not even finish the word "yes", that is amazing

• Pakistan
29 Dec 06
hahahha......... (Y) for your comments..

• Canada
11 Nov 06
I wouldnt be able to pull off a prank

• India
11 Nov 06
I like playim pranks,.,.,.,.,.

• United States
11 Nov 06