Gestation period for dogs

Australia
March 26, 2009 5:31pm CST
I have Staffies (Staffordshire Bullterriors) & my girl is pregnant again (she's getting fixed after this litter). Anyway, her last pregnancy I didn't think was this long, she was in season over christmas & new year. I have ben told that the gestation period is about 64 days from 2 different people for dogs but if this is the case, then she's overdue to have her litter. Can any mylotters verify this gestation period or tell me what the proper length of time doggy pregnancies last for?
3 responses

• United States
6 Apr 09
Around 63 days is the norm if you think that your dog is over due then I would take the dog to a vet to get checked. here is a link below on doggie gestations I though that you might want to read it. http://www.guideofdogs.com/html/dog_gestation_period.html not a referrel link. this link has to do with this discussion!

• Australia
6 Apr 09
Thanks, I will definately have a read of this.

• United States
7 Apr 09
your welcome, how is your dog doing.

• Australia
8 Nov 09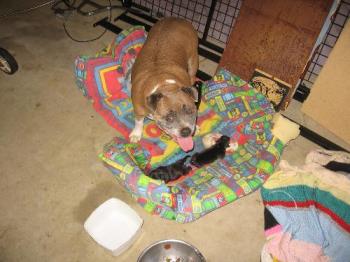 Thanks for all the info, it turned out to be a false pregnancy...however, she had puppies on Aug 28...


• United States
26 Mar 09
I believe what you have been told is correct. Its about nine weeks. You may want to consult a vet. I've heard of dogs having a false pregnancy.

• Australia
27 Mar 09
I know what you mean but I was rubbing Josie's belly the other night when we were in bed & 1 or 2 of the pups kicked me :)

• Australia
6 Apr 09
I am beginning to think that it is a phantom pregnancy - although both my husband & I think we have felt pups kick - our vet said not to worry unless she is in labor for a long time.

• United States
26 Mar 09
Gestation for all breeds of dogs is 60 to 64 days. Sometimes it's hard to tell exactly when your dog got pregnant, because their estrus (heat) cycles can vary so much. If you think she's over due, then I would advise my vet to have her checked out. Best of Luck!

• Australia
27 Mar 09
As for another silly question, would it go from when the last pup was concieved? I would think this is the case coz they wouldn't all be concieved at the same time I should imagine.