Is MyPage5 a SCAM or NOT?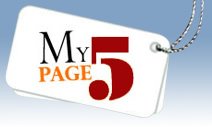 India
March 28, 2009 8:34pm CST
I recently signed up in mypage5.com and the site is pretty good in payments. The minimum payout is 50 $ and it can be earned easily. I earned 10 $ now. But i am not sure that the site really pays or not. Anybody got paid from this site? Please share
2 responses

• India
5 May 09
i dont know much about this site and a friend of mine is on this site and she said she would ask me to join only when she gets paid by this site as this site has a fairly high payout of 50 dollars and it doesnt allow you to earn unlimited, pays you only for 10 comments you make and 10 blogs so 40 cents in all and i think 10 videos too so 75 cents in a day but it is very difficult to get 10 new videos daily so lets say 40 cents so it would take over 100 days if she has 10 referrals under her.