RAID: What's on your bag?:)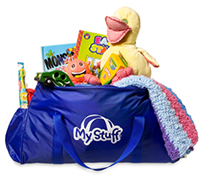 Philippines
March 30, 2009 3:28am CST
LOL i got this discussion coz we have here a tv program which they try to raid someone's bag actually a celebrity's bag, and i find it cute and what if they'll raid mine LOL

so here:since college i always bring everything with me from books down to scissors or a glue or even a nailcutter hihi (my blockmate will always ask/borrow these stuff from me

) now that am working am still like that (i inherit it from my mom, everyday she has 2 bags and 1 mini bag/pouch for her daily itineraries hehe) ok so much for that let's check what's on my bag:D i have 3 pouches
1 pouch (grey color from human) for my "kikay" (for us Filipinas) or make-up kit (daily kit i dunno what to call that hehe) includes:
Avon blush-on| mascara| 3 lip-glosses:D (only one i regulary use)| eyeliner| lotion| hand sanitzer| powder| curlash| eyeshadows| and other stuff:nail cutter, tweezer hihi:D
1 another pouch (pink from Avon):
letters| pay slips hehe| receipts| meds et al et al:D
1 another pouch (blue one)
my son's birth certificate| Jollibee membership ID| thermometer yes i do have hehe| baby's book-pedia| 1 sanitary napkin

wallet
cards- health cards| ATMS| loyalty card from boutiques pictures cash letters important IDs- Tin| SSS| PhilHealth et al et al:D
cellphone pouch slash coin purse
[b]headset pens organizer memory card reader (uploads of photos hehe:D comb umbrella sunglasses and a hanky;) [/b]
i have a lot stuff praying for God's guidance and extra care for my bag coz (God forbid) holdap-free- have so much important things there
:D your turn:D love to read yours too;) happy myLotting!:) Godabless!0=)
4 responses

• Philippines
31 Mar 09
Are you sure you're wearing a bag or a luggage? Lol! It seems like you bring a lot of stuffs huh? Well my bag isn't big. It's a mini knapsack. Assuming i don't have pockets so everything's in my bag: Alumni I.D | TIN I.D. | Sogo Hotel discount card, now don't ask me how i got it but i think you already have an idea lol | Penshoppe bullcap | earphones | my Eeyore coin purse. I'm always on the go so those things are basically what i need and i don't need some maintenance like girls do.

• Philippines
31 Mar 09
haha no need to explain i got it..you're one of us right? LOL hehe i think all of these stuff are for you men also, sometimes hubby asks for an alocohol, wipes, tissues etc we bring these things coz in one way or the other you need these stuff too, you're just "tamad"/lazy or uncomfortable to bring these stuff LOL

thanks for sharing...good thing you have mini knapsack with you!

happy myLotting!

Godabless!0=)

• Australia
31 Mar 09
I'd like to see a picture of modstar in Hotel Sogo carrying his Eeyore coin purse with him. Isn't that the cutest thing???




• India
31 Mar 09
if i go outside other than office , i will put in my purse or hand bag, my id card,mobile, some tissues, small mirror, one comb, small compact powder, some cash, one pen, any important papers if needed. if i go for shopping i don;t take any purse or bag because i feel discomfort with it when shopping. my husband will only bring cash and he only gives money or he gives credit card .i will be busy in shopping and i can;t decide where to put the bag ,when doing shopping. so now a days i am not taking bag with me,when we want to take groceries and household things in big malls. if i go distance place i will put some juice packets in my bag and i will also put my small handycam,which i want to take any new scenes or any places,which i go.

• Philippines
31 Mar 09
am practicing to put my all stuff in one purse or pouch too but i can't LOL am not at ease if we go out bare-handed sometimes hubby gets my bag but am not used to it i have to bring it with me

thanks for sharing!

happy myLotting!

Godabless!0=)

• Philippines
30 Mar 09
Here are the things you'll find inside my bag: - Mobile phone - Pink Nintendo DS Lite - Canon Ixus Camera - My Cebu Pacific yellow purse - Keys - Mercury's Suki Card =) - ATM - Medicines - Novomix pen - Ointment - USB - Charger - Perfume/cologne - Tissue/wipes - Maybelline face powder - Cheek and Tint - Lipbalm - Sunglasses

• Philippines
31 Mar 09
plenty stuff too...that's what you call "girl thing" LOL

thanks for sharing!;) happy myLotting!

Godabless!0=)

• Philippines
30 Mar 09
im using a large boho bag right now and inside it are quite a lot of stuff: a brown pouch as a vanity kit; silver wallet from taiwan; perfume; my ipod video 30gb; eyeglass; my n.supernova cellphone; coin purse; red and black pen; super huge sunnies; usb (2gb); cellphone charger; id holder (use for holding important id's..) ....i guess thats about it.= )

• Philippines
31 Mar 09
i know girls do have lot of stuff hehe thanks for sharing!:) happy myLotting!

Godabless!0=)