Do you know how to drive a "stick"? How did you learn?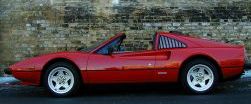 United States
March 30, 2009 4:47pm CST
Just curious as to how many people can drive a "stick" and what type of vehicle you drove to learn. When I was almost 16, my dad bought a Ferrari 308 GTS (which, made my mom just a little peeved). One day he took me for a ride in it. We turned onto this really straight rural road and he just stopped the car in the road. He looked at me and said get out. I was thinking, huh? what did I do? So, I asked him what I did and he told me nothing but that I was going to drive. Okay, I thought at that point he had completely lost his mind!!!! And I told him that too! lol We changed seats, and here I am in the drivers seat of a $65,000 car wondering wtf he's going to do when I run off the road or run into something! Ya, I was just a little nervous! But I learned how to drive it! About a year after I got my license, I got a little Audi that was a stick. And it did take me a few times around the block to get comfortable driving a stick again. But it was not anywhere near as nerve wracking driving that car as it was my dad's Ferrari!
2 responses

• United States
6 May 09
I was self-taught when my car would not start one morning and I needed to get to work. My husband had the day off and was sound asleep. I just took his truck and I of course messed up a few times but I made it to work and called him. After that we went out a few times so I could get better at it. It is good to know.

• United States
30 Mar 09
nice car :P lol. yes, i do know how to drive a stick, but i much rather prefer to not have to, if i can help it lol. i learned when i was about 15 too, when i was learning to drive. i learned in an old ford mustang haha.