My daughter's started to go school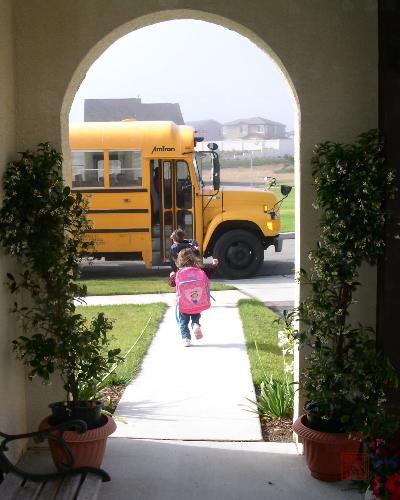 India
April 1, 2009 1:24pm CST
Today my daughter started to go to school.It was a great moment for me to see her in school uniform and school bag. Previously she used to go in play school but that was for time pass. But now she has started to go to school fullfledged.Even she didn't cry when goin to school. I started this discussion to share my joy with mylotters. Have a great day!
4 responses

• Philippines
3 Apr 09
It seems like your more excited than your daughter. Congratulations by the way! I and others may also want to hear what stories she told you on her first day in school.

• India
3 Apr 09
yes as a father i m too excited. Now she started to describe different incidence happened in the school.But when we asked what did they teach you in school, she always say nothing and later start to tell incidence. Thanks for response.

• China
3 Apr 09
congratulations!my baby is too yong to go to school.i think our baby should go to school as early as possible.they will learn more then in home.and the same time,they will find the school life is very interesting,for many peers they play with and make friends with.also he can learn how to get along with others.

• India
3 Apr 09
In learnig it depends of environment of home, we used to live in joint family with parents. So learned a lot by her grandpa and grany.But yes you are right they learned a lot and try to mix with other children in school. Thanks for your valuable response.

• Malta
1 Apr 09
Well my daughter started this year school, she went the first week as a young lady, however she started crying a week after since she have given a punishment by the teacher. Hope your child will enjoy school everyday, they are so cute with their school bags.

• India
1 Apr 09
its bad ,to give punishment to little kids. YOu should complaint to school authority about it. Due to punishment like activity in school, child become reluctant to go to school.I would try to keep her interest to go to school intact. and wana see her cuteness with school bag everyday.

• United States
1 Apr 09
Congratulations, you're little baby is growing up. It's always a funny feeling when you're first baby, or any of your babies for that matter, head off to school. It's just that one step closer to them being their own person. My daughter goes to afternoon preschool, and she enjoys it.

• India
1 Apr 09
Thanks for your response. My daughter joined morning preschool(nursery).