Vijay Mallya overexcited About KP?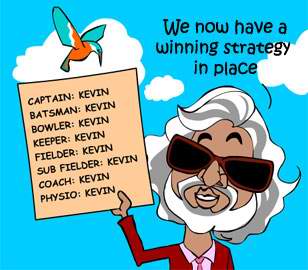 India
April 9, 2009 6:37am CST
Mallya made kp captain of his brc as long as he stays i.e. half the tourney, KP has shown his inability to lead and manage cricket teams with his attitude. Do you think this is a decision to step up the brand value of the team or is it a good cricketing decision?I think it is a poor one as we have seen captaincy can do wonders for a t20 team in a short while, good captains have had much success. KP and his ego wont let him be a good captain.
6 responses

• India
9 Apr 09
I truly agree with you, i don't think KP can be a good captain and also not a very good T-20 cricketer and even though if he plays well in the IPL, i really don't think he is really worth paying that much, Mallya would surely repent for the big bux he paid for him.

• India
9 Apr 09
but i think he is a good player , its just that he is not that good a captain anyways guys see the picture , it is from cricinfo and interesting to have a glance.

• India
16 Apr 09
i think kp is a brilliant cricketer and a batsman.but one can't say much whether he will be a good captain or not after his dismal show in india where england lost the odi series 5-0 and he was the captain.vijay mallya is an excellent businessman but i am not too sure about this move of his.

• India
10 Apr 09
kp has not shown brilliance with his captaincy......his skillls are paramount..if he wants to be a successful captain guess he need to understand the game that much better...like what dhoni has done for india & the way he shaped the team......results are not even that when he captined england.....but who knows he may just be right man to bring the team which was lying in the dumps in the dumps in last edition of IPL....also we must keep in mind south africa is his home...& in home conditions came serve boon for BRC

.....

• India
9 Apr 09
Yeh thats what i was thinking.. I dont mean to say that KP is a bad captain, he leads from the front and does things his way, but unfortunately he has failed in the past. if everything does not go to plan there could be a clash of Egos between KP and Malaya.especially considering that they had a very bad year last year... So hopefully they have a good time under pieterson, and everything is calm

• India
9 Apr 09
I would have liked if dravid would have been retained as the captain of the bangalore royal challengers as he played very well in the last season but i do not see the selection of pietersen as the captaing as a bad move. He is the teammate of shane warne in hampshire so surely he would have learnt a thing or two about cataincy from him. And even when he was sacked from the post of england captain he had the backing of the entire team so the question of ego does not arise. He is one of the better t20 players in the bangalore team and mallya would be hoping that he leads from the front like shane warne did for rajasthan royals. So it could prove to be a good move by mallya for tre bangalore team.

• India
9 Apr 09
First of all KP is not playing the full season & as such why was he given the captaincy? The team which plays good cricket on that day wins even if the captain has no brains just like whats happening with MSD with luck.When the players play to their potential then you never lose. Yeah you are right in saying that KP is not a team man which he showed when he was given the captaincy to lead England.He divided the team & his form also slumped.Now after playing the fourth ODI against West Indies he said that he is not in a mood to play the fifth ODI & so would return to England , but he played the fifth ODI.Why make such statements being such a senior member in the team? He does not deserve to be the captain of RCB.