do you like my rave dress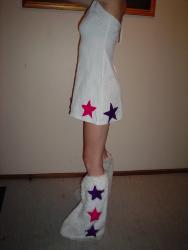 Australia
6 responses


• Australia
29 Nov 06
hey i make rave outfits and sell them. i have sold things to ppl all over the world.

• India
24 Nov 06
i have never heard of rave parties..am sure they are cool! the outfit looks pretty, i like the big stars on white :)... the boots looks equally cute..=) i'd love to see more rave dresses by you! :)

• Australia
29 Nov 06
hey ill post pics of a few i have made soon i just gotta upload them on to my pc. thanks for your reply. raves are dance parties. with techno-trance music and dj's. there good fun..

• United States
24 Nov 06
that is cute with the matching boots.

• United States
24 Nov 06
Thats cool. I know what a rave is. Cute dress. Props to you for making it yourself!


• United States
24 Nov 06