Birthdays and holidays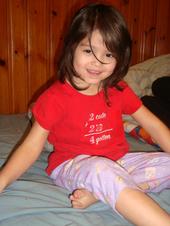 United States
April 9, 2009 8:50pm CST
My daughter has a birthday two days after Easter. My other daughter has a birthday nine days before Christmas. With the birthdays so close to holidays I sometimes am not able to get them all that I want to for their birthday. I wish their birthday was not so close to holidays. So do any of you have this same problem? How do you handle this problem?
6 responses

• Japan
11 Apr 09
I have a niece and her birthday is the day after christmas. I can not remember her having a party. Her mom which is my sister brings her outside and treats her but she never had a birthday party. After the holiday rush and the busy December 25 it is not easy to have a birthday party for a December 26. My neice is 13 years old already and she understand it very much. She is happy for she always gets extra gift, one as Christmas gift and one for birthday present

• Philippines
10 Apr 09
My mom's birthday is on December 23. What we do is to celebrate it on Christmas day itself so we'll have one spending instead of 2. For gifts, i always go for personalized items. I think this would be helpful, http://www.gifti.us

• India
10 Apr 09
Congratulationn for your daughter's Birthday. If you like your children then Birthday timing is not important at all. Loves lies in feeling not in timing.


•
10 Apr 09
Hi phoenix, My brothe's birthday is on 19th December and my late mother's birthday was 25th December, Christmas day and she used to get double presents, also my neice is 1st December. Tamara

• Philippines
10 Apr 09
my third sister's birthday is on the 24th of april, after holy week and we are planning either to have a picnic in our mountaneous province or celebrate her birthday at the beach.what do you think which is better? and of course this date is summer so the whole month for us is holiday..we are excited as for now really.