Jeepers Peepers!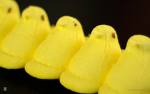 Netherlands
April 10, 2009 7:38am CST
As the interest category probably tells you I have been deep in thought over this subject and since it is the right time of year I thought that I would come here, this great forum of myLot, and put it to a vote just to see how many people agree with me and how many don't! Now, what is it that is up for a vote you may well ask...and I well may tell you now! Peeps! Plain and simple...Peeps! How do you feel about them? Do you like them? OR are you one of those people like me that absolutely hate them? All of my life people have been giving me Easter baskets with Peeps in them and all of my life I have had to find a way to sneak them out of the basket and toss them some where so that the people that have given them to me do not get offended! Of course it never crossed their minds that they might offend me by giving them to me...but I take any gift in the way it was given...lovingly! Surely you know what I am talking about! Every Easter season they sell over 600 million of them in America alone! They are those florescent chicken shaped marshmallows with those horrible black beady eyes staring at you Things! Now personally I think they are way too sweet and they have kind of a sickening flavor of sticky, gooey, icky marshmallow...If you can get through the florescent yellow, green, pink, purple and whatever other color they come in, outer coating, and that is the very best thing that I personally can say about them! The only good thing about eating one of them is that first bite, when you look, open your mouth and stick it's head down your mouth and Rip It Off!!!!!!!!! Of course I suppose there may be one other good thing...if you can ever get one down...I wonder if since they are florescent on the outside...if you glow in the dark when the lights are turned out?? That would be pretty cool! Oh Yea! and it must be Great for your Health having all of that florescent inside of you!!! Now that I given my Completely Un-Bias opinion of Peeps...what is your opinion of the little Jeepers Peepers??? Am I the only one in this World that hates them or are there some more of you out there that are willing to stand up and shout..."We Hate Peeps"!!! with me? Maybe I am the only weirdo, I mean after all they sell 600 million of them in America alone every single Easter season!! Come one, come all, share with me!!


3 responses

• United States
10 Apr 09
I am afraid of anything that is marshmallow in nature. I placed an order once from Oriental Trading, I don't even remember what I ordered and they shipped a bunch of peeps with my order. Freaked me out at first because I thought they had sent the wrong stuff. I can't remember what I had purchased but it was craft related and I needed it for a class with little kids.

• Netherlands
10 Apr 09
HA HA HA HA!!! I like you better and better every time I talk to you!!! You remind me of me!!! Now that is something that would definitely happen to me!!! I can just imagine you opening that box and having those beady little eyes and marshmallow staring at you!! Your hair probably looked like you stuck it in a light socket...I know mine would!! I have to stop responding to this now as I can't type any more I am laughing so hard!!!

Thanks for responding and hope you have a Happy Easter and a very PEEPLESS one too!! YEAAAH! ANOTHER ONE FOR PEEPLESS!!!



• Netherlands
16 Apr 09
You are too Canellita! You have given me a lot of laughs during this discussion!! Thanks!




• Australia
11 Apr 09
I don't think I've ever had one of these before!

I don't recall seeing these in Australia and they're definitely not in Egypt. Given what you've just shared, my lack of exposure to them's probably a good thing. But at 600 million sold each year, they must have some merit! Then again, they may all be discarded like you do yourself and they hold the same esteem as McDonalds pickles. lol.

• Netherlands
12 Apr 09
Just like Mummymo above you over here...you have been truly blessed by the Peepless God!!! In all honesty I know some people must like them, especially kids because they are so sweet, but I think a lot must have to do with tradition also. Peeps have been around since 1958 so of course they are just something that we, (when I was in America, and they are in Canada also), come to know would always be in an Easter Basket. Now of course they are factory machine made but originally they were actually hand formed! Now I find out that they are even Halloween candy...so they are...
MULTIPLYING!!!! AHHHHHHHHHHHHHHHHHHHH!!!!

Thanks a lot James for coming over to my side of town here, I'll get back to yours very soon, until then, have a Happy Peepless Easter!!!



• Netherlands
16 Apr 09
Yes James, you definitely want to stay pure and PEEPLESS for as long as you can!!!




•
11 Apr 09
I know you are weird honey but I absolutely refuse to believe that you are the only weirdo here! lol I haven't seen these things you describe - perhaps they aren't sold here! In a way I am glad they aren't - Niamh is full of beans enough without getting a sugar high off of those things! Have a great Easter honey Hugs xxxxx

• Netherlands
12 Apr 09
Thanks Mummymo!! Always makes me feel good to have your SEAL of approval...especially when it comes to me being a weirdo!! I feel so much better now!!!

I tell you that you have been Blessed by the Peepless God that you don't have them and don't know what they are...I guess I just didn't live my life right and must have done something truly terrible in my life because I have had the little buggers invade my life!! And yes, thank your lucky stars that Niamh doesn't know what they are...as they do cause a REAL SUGAR RUSH!!! Thanks a lot Mummymo for responding and you and yours have a Happy Easter too!! Peepless of course!!


•
21 Apr 09
My beloved daughter and her 6'2" brother get crazy enough without a sugar rush like that honey - so I won't even bother trying to find them next year! lol The eldest has eaten all his easter eggs and he had LOADS of them so I don't know how he hasn't been throwing up! xxx

• Netherlands
24 Apr 09
It seems as though they have stomachs of Steel at that age doesn't it??? XXX