Sloth! Finally!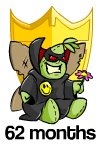 United States
April 14, 2009 8:33am CST
I finally got the Sloth badge that I wanted for so many months. The downside is that it changes in 27 days. Most of the time the badges on your look up page are kinda lame but there are a couple that are cool. I wish we could pick the display badge like we can with our avatars. Some people do page designs where they cover the Neopet badge, according to the TOS that is something that can get you frozen but I don't think that they enforce it all that strongly.
4 responses

• Philippines
1 Jun 09
Wow! A long time player. Well, you can get custom badges on some sites.

• United States
15 Apr 09
I'm not into Neopets but I always read your Associated Content articles, just in case my kids want to explore it.

• United States
20 Nov 09
You could always find the html code somewhere and just add the pic to your user lookup. it doesn't have to be used as an age badge only.

•
3 Jun 09
I've got a custom one as I didn't like the badges at all. I didn't know it was illegal and I don't want to change it as it's a halloween uni.