FINALLY Tonight is the night!! My Favorite show starts its new Season!! WOOHOOO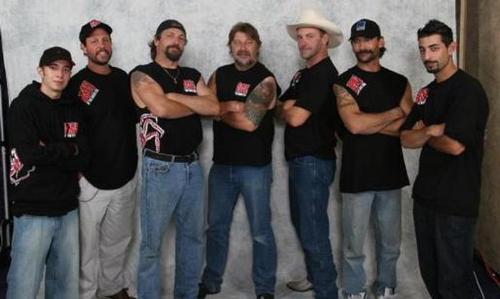 United States
April 14, 2009 11:10am CST
WWWWWWWWWWWOOOOHOOOOOOOOOOOOOOOO!!!!!!
[/i][/u]I've been waiting all fall and winter, biting my nails off waiting for Season Five of"DEADLIEST CATCH"!!!!![i]
[u] Hot Damn and Holy Crap!! It's been a long long wait for me, crazy I know but I really do love this show and I've gotten quite "attached" to several of the Captains and after seeing the previews now the last couple of weeks I'm more worried than ever, I honestly don't know if Captain Phil is going to be able to run his Ship again; That Dear Man almost lost his life in Season Four due to a nasty blood clot that ran through his heart and into his lungs and he really must have some good Angels watching over him, and I know he has tons of "fans" that was praying for him and we all still are too;If you've never watched this show I've said it before and I'll say it again, you really should it comes on the Discovery Channel and I dearly love that station THANK GOD FOR THE DISCOVERY CHANNEL, I also am a huge fan of "Dirty Jobs", Mike Rowe is on that show and he's been the narrator for Deadliest Catch, Mike has the perfect voice to do this and well he's just a fun and crazy guy in his own right too (G)!! I plan on taking a long nap this afternoon to be able to stay up and watch my show, I'll be watching the later show as my other Tues night shows are on too...crap! watch some, record some and at 10:00 p.m. my time (central time) there is an hour special ( old highlights of past shows) and then at 11:00 p.m. mytime they are playing the NEW SEASON FIVE SHOW AGAIN... THANK YOU DISCOVERY CHANNEL for always playing the HOT SHOWS again on the same day/night they preview I love that!!!! check out your local times and see why MILLIONS of Women and Men and kids just love and adore this show! TALK ABOUT DEADLY AND REALITY!!!!!


Phil honey, I hope and pray you'll be able to fish for those crabs again after your ordeal from last year...and if not well I know it will be devastating to you and your fans but trust me, we'd rather have you "alive" ok??
8 responses

• Jamaica
14 Apr 09
I've not heard of this show at all. I am also not sure if I can get the Discovery Channel on my cable network but when I reach home tonight I will check - so I may be watching it with you! You have made it sound so exciting.I don't think that I have ever watched discovery channel before so this will be a first for me. Blessings

• United States
14 Apr 09
HI Cynthiann: Yeah you'll have to check your cable and see if you get the discovery channel; (G)! I couldn't get into the show either at first, but I kept watching it and I love how the Discovery Channel runs the episodes back to back , even on re-runs they are never out of sequence so even if you miss a show, you'll see it again later on; I just got all caught up with the antics of the different Captains, & Crew and the beauty of Alaska, and danger of the Bering Sea and it just boggles my mind the risks they take and the money they make; CRazy!!! Even the crazy cameramen risk their lives just to film this show, they did a special on them too and showed how they set up the camera's and such and how there is like 3-4 cameramen on each boat that they are filming and how those guys too are "HOOKED" to keep coming back season after season to film the show again; I really do love this show; its Reality at its very Best, no second takes on this show, Mother Nature does what she wants to do and she does not do a re-take on her Waves and destruction, but she also rewards them with such a bounty of Crab!! Very Addictive show! I've never even ate Crab myself, never could afford it or Lobster, LOL! funny huh?

• Jamaica
14 Apr 09
I'm gpoing to check when I get home tonight for it. ehough I am allergic to all shell fish

It sounds great

• United States
15 Apr 09
Oh Wow!! I always thought with my luck ( all bad) I'd be allergic too, just never had the money to try any of it, I'd like too;


• United States
14 Apr 09
I'm gonna be right there with you watching the new episode tonight! I have been watching alot of the old shows they played during the marathon this past weekend. I actually take it as a good sign seeing Phil on those previews. I just can't imagine him not being one of the captains this year, so maybe I'm in denial.

• United States
15 Apr 09
HI Uicbear: Well did you watch the show last night or watch it today if you recorded it? Yeah I've been watching all the re-runs too of last season ( love them ), waiting it out for last nights new show to start; I don't want to spoil it for you if you've not watched it yet but when you do I hope you respond back so we can discuss it...ok?

• United States
17 Apr 09
Yea, I did watch it! I was so happy when they were saying that Phil was coming back! And then right before they are getting ready to leave the bottom drops out. That just wasn't right. What was Keith thinking? I remember an episode on another season where they were talking about how dangerous it was to dive under the ship in port just because the water is so cold, and he does it at sea?!?!

I'm thinking they are going to have to medevac him to a hospital to make sure his head is still on right. How long till Tuesday?

• United States
2 May 09
Them showing Phil every now and again is making me thing that he is coming back to the boat. Of course all the clips of him preseason made me think he was gonna be out there from the beginning.

What did you think about last weeks episode with it mostly being about the crew of the fishing boat that went down. I was glad thos guys survived and felt awful for the fuys that didn't male it, but after about half way through the episode I felt like they kept repeating what had already been said. Maybe it was just me.

• United States
15 Apr 09
I too have been anxiously awaiting the show's return. I'm posting this on Wednesday, and I watched the first new episode of the season last night. It certainly did not disappoint. Spoiler alert! If you haven't seen it yet, read no further. I was saddened to see that Phil is still dealing with more blood clots and was unable to Captain his boat.I was also surprised to see another one of the captains dealing with his own health issues. He nervously awaited a phone call from his doctor, but fortunately, the results were negative, there was no cancer. If the rest of the season is anything like the first episode, it looks like we're in for a great season.

• United States
16 Apr 09
HI Brandon; Yes what an exciting show it was huh? I just feel so bad for Captain Phil, and it does break my heart to know that after all these months he is not out of the woods yet with those blood clots, but I'd rather have him alive and breathing than to have had the worst happen to him you know? Thankfully he has quite a great crew and his sons to manage his ship without him, I know its killing him, I just hope that The Discovery Channel does include him with updates throughout the season and I'm sure they will, he has so many fans out there; Who know by the time the Opelio season starts ( back in January) he may be able to go out and Captain his boat again but I doubt it, as the weather is way worse that time of year and he'd be at a higher risk of another serious injury to himself in his present condition, and that would be tragic for all of us; Yeah Poor Captain Keith dealing with his own health issues and then to get whacked on the head from his ship, he took a great risk by diving out there like that even though the Bering Sea was somewhat "calm" that day, still too big of a risk to do that I'm sure he has a nasty concussion now, poor guy!! I've had a concussion myself before and cannot imagine having one out there like that on that big rolling ship, talk about gonna be "seasick"...you get so nauseous with a concussion, but to be out there? OH my!! At least he has his brother there to help out with the boat and crew while he recovers, poor guy!! Yes I think this season's shows are gonna be way more intense and dramatic, just by the "teaser's" they've been showing and from hearing what Captain Phil was saying to Larry King in a recent interview he did on CNN... It's a nail biter and I'm still waiting it out until this Tuesday's show; I need to remind my family and friends to NOT bug me, or call me on that night as I have several good shows I watch, and I just do NOT want to be interrupted during them, I don't answer the phone or anything LOL! I'm so bad I know! Thanks for stopping by and until the next show see ya then!!

• Indonesia
15 Apr 09
that's nice... help me so much

• United States
15 Apr 09
Hello ronikusuma: So did you watch the show? have you ever watched the show? do you like it if you've watched the show?

• United States
15 Apr 09
I am right there with you I love the show and I have went to extremes to watch it lol or not miss it. It is just one of those shows you could never get sick of watching really! I also love Dirty jobs and Survivor man I love the Discovery Channel its a great channel we watch it a lot as a family The kids even like it my 8 year old Love Deadliest catch! But yeah I am pretty excited right there with ya!

I do beleave that there has been times I have shed a tear or two watching it lol But it gets really emotional sometimes and very intense for those guys! You got to love them all


• United States
15 Apr 09
HI there: Yeah BAby!! Another fan of Deadliest Catch, I too love Dirty Jobs of course I've watched a lot of Survivor Man too, I couldn't do that either be in those extremes and eating well..."crap" out there; Bleh!! I've watched re-runs so much of Deadliest Catch I could almost narrate the show myself (G)!! You have smart kids to love the show too, that's wonderful!! I've shed many a tear watching this show and I've a feeling I'm gonna be shedding a lot more on this season too!! They just all really draw you in don't they? Last nights show was just jam packed with emotions, I'm not sure my body can handle this much intensity if its like this the whole season you know?

• United States
14 Apr 09
It is so awesome to find people that love the show I do. I wonder about Phil myself. My heart sank last season when all that happened. My favorite crew however is Sig and the guys from the Northwestern. I can't wait for tonight! Oh and I heard on the radio. Lex and terry show on the radio. Does a ticket to ride for Austism each year. One of the prises they said was to get to go out with a crew from the show. And you get to keep some crab too. lol

• United States
14 Apr 09
I have my D set to record the new season. I also love the show for it's "reality" and the action is awesome. Last night they ran a marathon of the first four seasons all day long. It ws fun to watch the Best of" shows as well. Good luck to all the ships and their crews and God Bless them on their journey/job. May they all return home safely during both crab seasons. HAPPY POSTINGS FROM GRANDPA BOB!!~

• United States
14 Apr 09
Hey Grandpa Bob: That's awesome that you love the show too (G)!! Yes I know they've been running a marathon as I knew they would before the new season started, they did that too on Black Friday after Thanksgiving and I recorded all of Season Four, I wish I had the money to buy the DVD sets but gonna have to work harder here on mylot for that to happen; Yes God Bless them all, but I fear there are going to be some major upsets just from watching the previews, which makes me upset Even Captain Sig looked ready to cry on one of those previews...

and then with Phil asking his Doctor on the phone if he's gonna be able to go crabbing and his reaction soooooo I just don't know I know he was doing some Coffee promotions during King Crab Season last fall/winter so its anybody's guess as to what will be going on for the season??? Did you know Capt. Phil had his own Coffee?? LOL! its called DEADLIEST BREW!!!


• United States
15 Apr 09
HI JaBeau: Have you had a chance to watch it yet? I won't spoil it by saying anymore until you have a chance to see it; There is some great scenes as usual and the "Time Bandit guys" are at it again with their pranks...ROTFL!! Wait til you see it;


A lot of Tears too !!!

It's gonna be a long week waiting it out for the next show darn it all anyway!!

• United States
15 Apr 09
Yes, I watched it today. WOW a lot happened this week. It was great as usual. Poor Phil, I almost cried when he got that phone call. And the wizard's captain had a bad time waiting for his phone call, then he got konked on the head. And they are making us wait a whole week to see if he has a concussion? Man, that is real mean. But it will sure make me want to tune in, how about you? Love the show.

• United States
16 Apr 09
HI JaBeau: Well I did cry when Phil got the news, silly I know but I couldn't help it, and it was as I had feared too with having to wait all of these months for the show to start; I have most of the Captains and different crew members as friends on myspace, and right after the King Crab season started you know back in Oct of 2008 within like a week or so after that, there was a bulletin notice on myspace of the next Coffee Meet and Greet with Captain Phil and my heart just sank as I knew then he had not been released to go fishing from his Doctor...

Did you know phil has his own line of Coffee now? you find out all sorts of great information on the guys on myspace, and they share so many wonderful photo's, events they all go too, its just the best!! I am grateful that Phil is alive and well I pray he never has to experience another episode like he did but he's not out of the woods yet; Yeah Poor Captain Keith, you know he had to be really really desperate to even consider to dive out there in the middle of the Bering Sea to go under that big old ship I understand his desperation and all but what a big mistake to do, and then get whacked in the skull from your ship, its amazing that he did not black out from that being under water and all; But I'm sure he does have a concussion OUCH!!! Sometimes he comes off as such a big old loud mouth with his brother and crew but like all of us, he too is human (G)!! I like all the Captains , they each are so very different you know? It should be a very exciting Season that's for sure;