what are you enjoying the most about spring?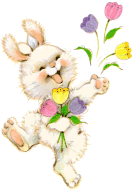 United States
8 responses

• United States
15 Apr 09
hi 6...what i am enjoying most is warmer temps. i like it when i only have to wear a light jacket. we are still getting yo-yo weather. in the morn there is frost and then it warms up to 60. i'm truly enjoying the daffodills and blossoms on the trees now. and leaves are budding bright green. i love them when they are so vibrantly green. we've just got some tulips up too and i love 'em. love the flowers.



• United States
20 Apr 09



The weather here is so beautiful. The flowers are all in bloom and the birds are everywhere. I have to agree with you, the flowers are the most beautiful this time of year. I am enjoying them too. I have flowers, tropical plants and veggies growing lol I should have been a farmer lol I love growing things.

• United States
20 Apr 09
there is something exciting about seeing seeds sprout. you put the seed in the dirt and wait & wait. THEN the tiniest bit of green that pokes thru the dark dirt is very rewarding. and the to see them become the final product is the ultimate achievement.

once i planted some flower seeds SECRETLY in one of my sister's abandoned flower beds. tee-hee to see them grow tall and have bright colored flowers. Ha HA it was quite a surprise for my sister and good laugh for me.


• United States
17 Apr 09
Tuesday afternoon hubby and I played golf! It was a gorgeous day, with temperatures in the upper 60's. It wasn't hot, the wind wasn't blowing much so the cooler temps were just perfect for being outdoors. I'm hoping to get a chance to run out tomorrow and hit some balls on the driving range. I definately need the practice!

• United States
20 Apr 09



It is truly the most beautiful and comfortabble time to be outside. I have enjoyed every minute that I have been out there. I have planted and worked with all these transplants and it is wonderful.

• United States
16 Apr 09
What I have always enjoyed most about Spring is the New life. Seeing baby ducks, baby cows, etc. and also seeing New blooms in flowers and trees. For me Spring just seems to mean a meaning of hope and growth. I actually have always enjoyed Spring as well.

• United States
20 Apr 09



Thats so true, hope and growth and that is a beautiful way to look at it. I agree that is what I think too. I just love seeing people out enjoying the beautiful weather. It is has be so nice and just the right temperature.


• United States
20 Apr 09



This is the time for it. Very soon, it will be too hot here to do that. It will be 79 here today. It is very pleasant and not too hot right now. We still have a breeze but very soon, it will just be a little breeze and it will be hot. Enjoying this while I can.

• United Kingdom
15 Apr 09
The best thing about spring is all the flowers wakening up and everything awakening from its slumber, the longer days, more sunlight and the warmth, it's not too hot as summer months when it can be humid and sticky. I love taking long walks in the Spring and finding a nice quiet spot where I can sit and enjoy the views or take a book to read as the sun warms me and I can hear the beautiful bird song with no one to disturb me, I love the peace and tranquility away from traffic and people.

• United States
20 Apr 09



You have just described a beautiful break. I was watching the birds calling to each other from the trees and it is just amazing how much you see, just sitting there in the peace of nature.It is a joy and the flowers and birds have been beautiful. I should be outside now lol , so I will enjoy it off and on each day. Appreciate the response and have a wonderful time mylotting.

• United States
15 Apr 09
Hmm..spring? What is that? They say it is spring here already but I am not so sure because it sure doesn't feel like spring here yet :)It is rainy and cold here today and they are calling for snow again this weekend. When spring finally does decided to rear it's head I have quite a few plans. I would like to hopefully be able to plant a small garden or flower bed and then there are some house repairs we would like to get done. But other than things that we have to do we just like to get out and go for walks or play some games in the yard or even just sitting out with the warm sun hitting off you feels good.

• United States
20 Apr 09



It is so pretty here outside, that I would rather be out there, than in here lol but the work is in here today....house and computer...so I will not get to stay outside today lol I am enjoying the breaks and going out when I can.

• United States
14 Apr 09
I enjoyed my grandson being here for spring break and then him and my daughter coming for Easter. I also enjoy sitting on the patio or just going out there and stand awhile and look around at all the birds. I see some butterflies sometimes now too.

• United States
20 Apr 09



It is so beautiful being outside now. I just love seeing all the birds. I enjoy being out there too. It is always amazing how beautiful nature is. My dogs are much happier with spring and they have really enjoyed being out for their walks.

• United States
14 Apr 09
Ummmm? Guess? According to my discussions today I'd say gardening. Hahaha! Been very busy on and off all day. I am done for a couple days at least. HAPPY POSTINGS FROM GRANDPA BOB!!~

• United States
20 Apr 09



Gardening is wonderful. I think they should teach more about it in schools. I am glad that you are having fun. I have also planted sugar pods. I sure hope they do well. I love planting and growing things. If I had room, I would have orchards and grow many different kinds of fruit. Appreciate the response.