vegetarian diet to prevent cancer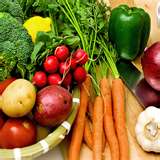 India
April 15, 2009 5:22pm CST
Hello everyone here Ji, After I read following, I wish to share with you as I am pure Vegetarian: http://jainsamaj.org/magazines/may2002.htm[b]"BRISTOL CANCER CENTRE RECOMMENDS VEGETARIAN DIET TO PREVENT CANCER In order to avoid the incidence of Cancer disease, which is already quite high in U.K., the people are becoming increasingly conscious about adopting all possible preventive methods including changing over from non-vegetarian meals to a strictly regulated vegetarian diet. The Bristol Cancer Help Centre, attached to Bristol Cancer Hospital in U.K. has come out with guide-lines for those suffering from this disease and also for others to strengthen the defence mechanism in the body to prevent cancer.The items recommended in the diet are:Increasing the use of whole grains and cereals, brown rice and corn. Use of pulses, beans and soyabeen at least thrice a week. Use of sun-flower oil and Olive oil as cooking media. Avoiding use of milk having high cream-content, curd and Paneer. Use of honey in place of refined or crystal sugar. Avoid any pre-cooked food items, tea, coffee, chockletes and cola. Taking wine in very limited quantity, if at all unavoidable. "[/b]If possible do act under positive manner. May god bless you and have a great time.

3 responses

• United States
18 May 09
The foods you have mentioned DO have a lot to recommend them, such as anti-oxidants, high fiber, and many other nutrients that have indeed been shown to prevent some cancers. Thank you for the list of many of those foods. Karen

• India
20 May 09
Hello my dear PeacefulWmn9 Ji, So nice of you for your positive and encouraging response. Let's implement them. May god bless You and have a great time.[em]thumbup

•
25 Apr 09
It is indeed true that a vegetarian diet is very healthy, I was strictly vegetarian for many years though now I eat fish. Populations with a high vegetable and fish diet are found to be the healthiest in the world. all the best urban

• India
18 May 09
Hello my dear urbandekay Ji,
We are very much strict vegetarians. There is no room for onion/garlic also in our family. We hardly get sick. While consuming fish, one has to be careful. May God bless You and have a great time.


• Hong Kong
17 Apr 09
hum....what's the proof and what's the reason behind this? It's not really making much sense. I think we are obtaining the nutrients all different kind of food. So a balance diet should be eat a variety of "natural" food, right? This news just sounds like telling me meat will cause cancer....I am not sure does this make any sense to me.....

• India
18 Apr 09
Hello my dear mimimeow Ji,
Well, we have been Veg. through out our life so far and are never near to that dreaded disease. Further, one who gets into the pond only feels wetness of water. Let's do it, before asking for proofs. I would not be able to tell anything on meat. As I have never tasted even. May God bless you and have a great time.