i like salad too much.

India
3 responses

• Canada
17 Apr 09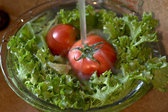 That's good and so healthy for you. It's good that you enjoy salad, lots of people have a hard time getting in all the vegetables they are supposed to eat because they don't particularly enjoy the taste. Another really good thing is to top your salad with various types of sprouts. Yummmm!

• Ireland
30 Apr 09
Just because i am crazy about the fruits and the green vegetables,so i like the salad very much,too.Especially when the summer season,almost i have the salad every day,no matter lunch time or supper time,i really like it,especially,i like the potato,tomato,apple,orange,watermelon,and so on.