Students should not be beaten in schools

India
April 17, 2009 11:50am CST
It is not advisable to beat children in schools. Only the parents have the right to beat the children. Teachers should be trained also the control the class rooms, silence the children without beating them etc in addition to the training which the receive in the curriculum. If such a training is given to the teachers then they will find a way out in solving the erring children.
6 responses

• India
17 Apr 09
[b]Yes cudamani i too think that students should not be beaten

i schools.I too hate this and i too think that only parents have his right to beat them.

But actually punishment to the students is must because if teachers give them punishments the the student can read more and can score good marks.But the punishment should be less.[/b]


• India
17 Apr 09
It is really bad to beat up students because beside hurting them physically also make them violent by negative thoughts they generate from such acts. Thus spanking can hurt a child mentally also and may force him to adopt to rebound back. There are much other ways to solve this problem for teachers like treating students with love and affection or rope them into some attractive things like awarding them with prizes if they follow instructions well. Hitting students is not a solution to problems.

• United States
17 Apr 09
I was paddled in school (twice), and spanked at home, once with a belt, and always on the fleshy part of my rear, nowhere else. I think I turned out to be a pretty decent person.

• India
17 Apr 09
I agree with your opinion completely. I don't like students being beaten in schools for any reason. It's strictly unfair to do so. It's a common mistake committed by most of the teachers in schools. But there are good teachers too.

• United States
17 Apr 09
Teachers are well trained to discipline the children not to the extent of hitting them or hurting them.

• Canada
17 Apr 09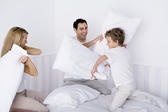 NO ONE should be beating children, not even parents. How can you tell your child not to hit anyone and then turn around and hit them yourself? It is wrong, no matter who does it. Children should not be hit, beaten or humiliated in any way. They are children, and everything they learn sticks with them for a lifetime. Think about your earliest childhood memories. Which ones stick out in your mind?