Does anyone play on iwon?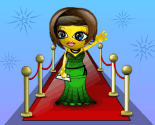 United States
April 18, 2009 5:29pm CST
I just wanted to know if anyone played on iwon before it is a great place for people who like playing online games and just plain having fun.
3 responses

• United States
19 Apr 09
I have played at iwon also I still go there. I am not sure if anyone actually one anything there before. I like it because they have cool games and its a nice site.

• United States
19 Apr 09
im not sure if anyone has won either but its a fun place look me up temptjess.

• United States
18 Apr 09
I have an account with iwon and I enjoy most of the games. It's nice to chat with some of the people while playing. I'm not really sure if anyone really wins on website. I go in with mentality that no one really wins but it's an ok place to go and play some games and be distracted for a while and it's free so it's not so bad. Take Care and Blessings to All

• United States
19 Apr 09
aint that the truth, i enjoy all the games and me and my sister get to talk on it all the time. maybe you can request my freinship or i can request yours my name on iwon is temptjess.

• United States
18 May 09
I play at Iwon, under the same serene name. I play for Team ADAPT in the team challenge. ADAPT is a disability rights group I belong to. We seek to provide a community based alternative to nursing homes by redirecting medicaid funding. We are 13th now. We need to make it to 3rd before we'll get money.