Soya beans

Italy
April 20, 2009 5:18am CST
Hi to all , would like to know if you use soya products to use as an alternate of animal fats, like soya milk ,tofu and they also make meat substitutes that taste like meat but it is only vegetable proteins, i often use it and i like it , far more healthier than animal fats , leave your comment on soya , greetings bignik
4 responses

•
20 Apr 09
I use soya mince, milk and tofu. Some of it takes a bit of getting used to but you can make really good recipes which are good for you and it usually works out cheaper as well. I also use some of the vegetarian alternatives which usually taste pretty good. Soya is meant to be good for you, helping balance hormones and it's supposed to be good for your heart.

• Italy
24 Apr 09
Hi jane 239 , yes i realy agree with you , and if all realy take a good look at the meat they consume in the arc of one week they will be astonished, i am not a total vegeterian but will try my best , the western world realy consumes far too much animal fats that is the main cause for diseases that have sored in the past decades , we need to re educate or children , friends and family to eat less refined foods and animal fats ,greetings bignik

• India
20 Apr 09
Yes, soya contains lot of proteins as compare same in meat. I also adviced from a Hair Doctor and that if i eat lot of soya product my hair will always be healthy and my Iron level always good. I like to eat in soya vegetable with rice etc. I also eat Soya Buiscuits and soya milk. Soya contains lot of vitamils and protein, if anyone will take daily will always be fit and fine. Now a days there is lot of soya products in market, we can use different type of products. I eat once in a week of Soya Vegetable and daily two soya buscuits.

• Philippines
20 Apr 09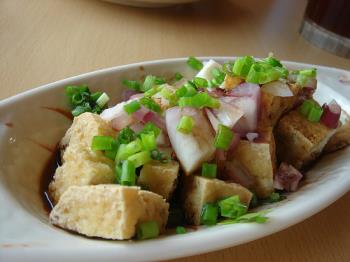 i don't use tofu as substitute for meat since i like to eat tofu more than meat. although i prefer to eat the newly made or the fresh one.i love fried tofu on soy sauce with spring onion. tofu is good with with rice and chili oil aside. its cheap and overly delicious. i can't resists eating this food. it makes me real hungry. if you got to visit my place you can try the tofu made in our place. really, its the best in the word.

• India
20 Apr 09

Hello freind yes i also use soys products a lot in my family .I give my kids soya products as they are rich in proteins,and kids need a high content,there are several products of soye in market nowa days.