Finally Back After Four Months!!!

United States
April 21, 2009 10:13am CST
Wow!! It's been a long time since I've had a chance to write anything here. Tax season is finally over (yeah!!) and I have some time to actually sit down and check this site out again. I've missed out on a lot, but, hey, life comes first and so does my tax business. We had a pretty successful tax season so I can't complain there!

Alot has happened over the four months that I've been away. I've had some deaths in my family and I've had a couple of grandchildren born. Life can be so bittersweet sometimes, can't it? I have a lot of things to do now that I don't have to be tied to my desk as much. I am planning on getting my book store up and running (finally). I haven't had time to get it open yet but hopefully I will now. I have tons of books now and just need to get some bookshelves to put them on. I'm really looking forward to this next venture in my life. We'll see how that goes. There's lots of other things going on too.

Sooo anything going on with y'all? I haven't had a chance to read everything about everybody so I have no idea what's been going on. I'll be reading and hopefully responding more now.

3 responses

•
24 Apr 09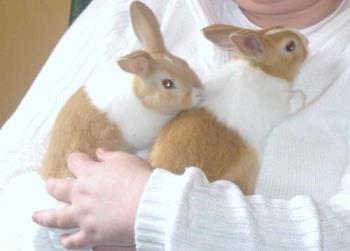 Great to have you back honey! I hear you on the bittersweet thing but I am sure that those Grandkids make everything seem better! Sounds like you are still gonna have your hands full setting up your bookstore but it also sounds like fun I do hope that all goes well! Not much different here apart from my 2 new Grandbunnies! lol Yep Niamh was so desperate for a brother or sister (she is definitely getting neither) that we decided to et her a couple of baby bunnies as a substitute! They are called Angel and Sweetheart and are soooo adorable - I will attach a pic! Hugs xxx

• United States
24 Apr 09
Thank you!!! Congrats on the grandbunnies..

Honestly I dont think I've ever heard them called that before..

That's a new one on me. It's gonna take a lot of work and a lot of time to get my bookstore up and running. I have so many ideas for it. I can't wait to get started,but I do have some priorities first. Always some bump in the road, huh? Thanks again and have a GREAT weekend!!!


•
26 Apr 09
OH Yep I am definitely Grandma to the baby bunnies and Niamh makes sure that I am called that in front of them at all times! It is really cute! Those bumps always seem to appear sweety but I know that you can get passed them in one piece. I think it is fantastic that you are achieving a goal - it wouldn't feel as good if it were too easy now would it? Hugs xxx

•
21 Apr 09
Hi ya Wyldrose Wow has it really been 4 months since we last saw you on here? I too have been busy mainly birthdays, a wedding, a Christening and kids competitions and family life so I haven't been on here as much lately. I guess you wouldn't know about the tasks then? Don't ask me though because I don't understand them and can't do them!!

Good to see you back!



• United States
21 Apr 09
Its good to see that your back and you survived the tax season. It also sounds like you've been through alot these past four months. Well not much has happened here, just the same ol, same ol. My husband is getting ready to have knee replacement surgery this Thursday, so I'm sure thats going to change a few things around here for awhile, for one thing he'll be home everyday, and I won't know how to act..lol. Anyway, Welcome Back!!!! Have a good day