Do u beleive that we should fight over religion?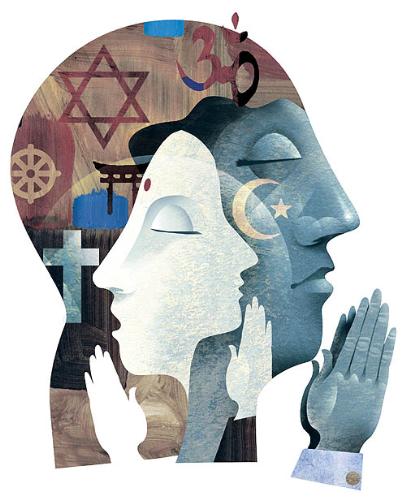 Philippines
April 23, 2009 7:17am CST
People around the world have different beleifs, as their culture brought them in. religion is an endless topic that needs not to be discuss by people who are narrow minded. religion is a matter of you beleiving that there are one God who make all of the unexplainable happen. xoxo :)
9 responses


• Philippines
23 Apr 09
yes i agree... we should respect each others religions cause in this topic no one wins and no one lose.. lets just be supportive on what others believe..cause by the end of the day the people who believe in their worship, makes everything right in their own perspective.. :)

• United States
23 Apr 09
religion is a matter of you beleiving that there are one God who make all of the unexplainable happen but dont you think that statement alone is narrowminded? there are tons of religions out there that DO NOT believe there is "one god".... should we fight over religion? Absolutely not! there are numerous religions as well as spiritual paths and ALL OF THEM are right and valid for each person who follows them..so much would change for the better if the masses could grasp and live that ya know....there is no ONE right way...

• Philippines
23 Apr 09
as u said. we should not fight over religion, yes there are religions that doesnt believe in one god but as ive mentioned earlier "one God" i mean it in a general way.taking it (the idea) personally makes the reader or respondent narrow minded..take note I want to make my self clear as ive used the word narrow minded, its for the people who is not open to other ideas.

• Canada
24 Apr 09
Hi onlyllyzie, I agree that we should not fight over religion, in fact it is what has caused so much suffering and so many wars down through the years. Although most wars today may not be over religion there are many who still believe that it is religion behind it all. I believe that at the core of all religions is love not hate, joy not fear, peace not war. We are all one, whether or not we are around long enough to finally realize this is a matter of question. Blessings.

• United States
14 Jul 09
As long as someone respects other religions they should be able to practice their own religion. Everyone should be happy believing their own religion as long as their actions respect other people and religions and to not harm other people. If everyone simply respect each other there would be no fighting over religion.


• United States
25 Apr 09
Yes, religion should be discussed. Interaction is key to learning. Sometimes the interaction brings out hatred and being judgemental but doesn't the drama get the problem out in the open to be dealt with. Drama isn't always comfortable but there is almost always learning around it.

• United States
23 Apr 09
I don't believe in fighting over anything!!!! Religion is the last thing we should be fighting over. If you don't like a person's religion then talk about something else!! There are plenty of interesting subjects out there. You do not have to believe in Hashem(G'd). There is no law that says that you do. You just made a statement yourself Onlyllyzie, that could upset some people. Religion should only be discussed by folks who can take it on the chin and come back smiling

! In order to discuss Religion, you have to be willing to learn about other people and their customs and culture and except them for what they are. Not to make judgements or try to influence them or lord it over them because you think your beliefs are better or more correct. We are all equal in the eyes of Hashem!! Shalom~Adoniah

• Indonesia
24 Apr 09
consequently i'm not choose to become in any religion or religion organized, what we can deny now? by belonging to any one of religion we have differ ourself, and million years people fight for their religion, that's what happen if we see the whole problem. Not belonging to any religion doesn't mean that i'm denying God, because i never find any truth by dogmas, doctrine or any conceptual words.

• United States
23 Apr 09
I don't think we "should" fight over religion, but I certainly understand why we do. The thing is, many religions (including, I think, virtually all of the major ones) are exclusive. In other words, they teach that adherents to that religion are right and everyone else is either ignorant or wrong. Well, when you tell a bunch of people they're right and everyone else just doesn't get it, you've set up a situation where some of those people are going to want to convince non-believers of the error of their ways. Whatever it takes. And so they fight. It's inevitable, really, so long as believers are convinced they know the truth. Especially when you consider that in this case the "truth" is so important. To a true believer, allowing someone to wander in darkness and ultimately forfeit their soul is like you or me letting a blind man walk out onto the highway. To them, it's WORTH fighting for. So I wouldn't expect it to change anytime soon.