Make Unlimited Money At Home With Just $20

United States
April 23, 2009 12:54pm CST
that's right, you can make as much money as you want in the comfort of your own home. work your own hours!!! be your own boss!!! the money is unlimited, it just depends on how much time you're willing to put into it and how much effort you put into it. and the best part is, you can start with just $20 OK.......let's get started: 1) take your $20 bill and place it on a glass table with a bright light underneath. 2) next, place a plain white piece of paper over the bill(make sure you can see your bill through the paper). 3) trace everything you see on the bill onto the blank paper(be careful to get all the details). 4) flip the paper and the bill over and repeat the process. 5) now comes the tricky part......coloring. make sure you match the color EXACTLY! try to stay in the lines, and i don't recommend using crayons. 6) cut your BRAND SPANKING NEW BILL out........repeat that's it.......you can do this as many times as you want. good luck and have fun with it. *disclaimer* your "artwork" is for your personal collection only........DO NOT ATTEMPT TO SPEND!!!
10 responses

• United States
24 Apr 09
But it isn't any fun if you can't spend it..So if I attempt to spend it will you bail me out? On the other hand it, it would just be easier to scan the $20 and print it out. Well it would save alot on paying out allowances..but hon, it is real I made it fresh this morning..lmao..


• United States
24 Apr 09
i actually saw a guy on TV who draws money perfectly and then barters with it. he tells the people that it's not real, and they still accept it and give him goods and services. the amazing thing is he does it all free hand, no tracing or copying and it looks exactly like the bill he's doing except i think he changes some of the words so it's not considered counterfeit.


• United States
24 Apr 09
I can't! ya ate my crayons!

• United States
24 Apr 09
yeah after eating them on top of all those skittles.......you should see my poop. it's SOOOOOO pretty!!!

• United States
24 Apr 09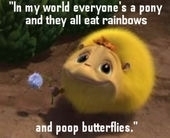 you are the only bear that I know that poops rainbows!that's what makes ya so special!

• United States
24 Apr 09
hehehe! to the comments on my pic... my world is just different like that :)


• United States
24 Apr 09
Hot diggity dog! Now I can make some serious cash..I got to go find paper and coloring pencils..

To bad I can't attempt to spend it though.."Becky shakes her head in disappointment.."

Well,if you ever need any feel free to ask I can make you some fresh right off the table lamp..

..P.S...You better hide when James is about..or you better be in great shape for running..He has this thing about Barney..lol But then again you can just tell him you ripped Barney's head off..

• United States
24 Apr 09
yeah i don't like my barney avatar........it doesn't show up very well, so i'm trying to think of the next great bear avatar.


•
27 Apr 09
LOL This really made me laugh! My nephews friend is a rap artist and was promoting his new single with fake £0 notes and got himself into hot water! It seems not everyone is too observant! Oooops http://edinburghnews.scotsman.com/topstories/Rapper-hits-a-bum-note.2821410.jp xxxx

• Italy
25 Apr 09
Can I try with €uros as dollars are not really worth much here and it would seem such a pity to make a stack of them and not be able to use them. The online ones are in Paypal


• United States
23 Apr 09
LOL too funny we will all be rich in no time flat..... It just seems way to much work for me though. I would like for someone to hand me money everyday!! wouldn't you! Have fun coping and cutting