Its sooooo HOT, wanna have something cold and cold and cold ...............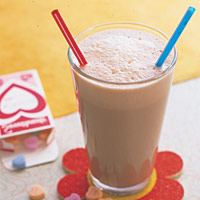 India
April 24, 2009 11:48am CST
its so hot now days that every one wanna have something cold everytime. my little baby also like to have something cold to eat and drink. she rarely eats proper food. she is not enjoying it. now i mad ethis chocolate ice cream mixed with milk and blended it . it tasted awesome and she also like d it . she likes to have buttermilk so thats also a saving grace for me becasue to have buttermilk in this season is good for the health too. for my preparation i just took around four scoops of chocolate ice cream, one cup milk, three tbsp of chocolate syrup, and three tbsp of malted milk powder. all i did was to just blend all the things together until a smooth mixture which is frothy comes. it was two glasses and me and my hubby and daughter enjoyed it. it tatsed awesome and took maximum five to six minutes to complete the whole process. how about you all. try this once you all will also love to make and drink it everytime and if you have something great to make which is easy and fast, please share it with me. thanks.
No responses