The great debate

Czech Republic
April 26, 2009 9:00pm CST
This is going to be the most stupid discussion I'll ever start but when I saw this picture I knew I have to ask. So which way do you hang toilet paper? I always hang it to the back (inner) side (A on the picture). Don't tell me it's the wrong way, I'm warning you! It's funny when I walk to the bathroom sometimes and I see someone changed it to the other side lol.
1 response

• United States
27 Apr 09
If you hang it to the back then you have to reach under to get the TP. I hang it over the top so I can control the flow of TP. But the real debate can be settled. Just ask a woman if its supposed to be over or under and she'll most likely say, "ON! Let's just try ON for a while and see how that works."

• Czech Republic
27 Apr 09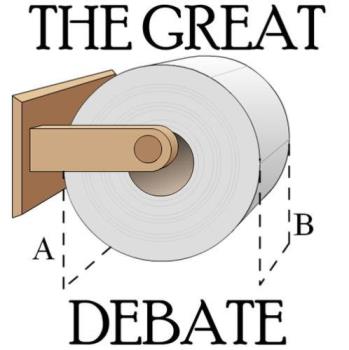 If you hang it in back it's not really hard to reach and I think you have better control of the flow too. If you hang it in front, it usually rolls too much.

I see there was some problem with the picture upload. I'll try it again.