Crazy things dogs do!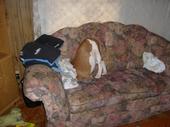 United States
April 27, 2009 11:48am CST
When my dog was a puppy, he was chewing on things, so I bought a big bag of the rawhide bones. He would destroy or lose one so I would get another out. Well we ran out of bones one day, and he started sniffing around the couch and lifting the cushion up with his nose. I figured someone had spilled food on it and he was trying to find it. Well I went in the other room, and come back to find him up on the couch, head completely disappeared into the cushions! I couldn't breathe I was laughing so hard, then my 6 year old stepson said "that he looked like one of those funny birds that stick their heads in the ground", and I just laughed even harder! What funny things have your dogs? Any quirks that keep you laughing?
2 responses

• United States
27 Apr 09
I once bought a bag of five rawhide bones for my two dogs and scattered them through the house where they could find them. My female dog rounded up all five of them and was guarding them all under the coffee table, and wouldn't let our male dog have any of them! We made her share.

• United States
5 May 09
We just got our puppy this past weekend but already he's been a nonstop barrel of laughs! He gets so mad when he has to be on his leash he tries to chew on it and somehow manages to get himself all kinds of tangled up in it. He's already taken to running around whoever's taking him out around and around so they get tangled up by the leash. You can try and get out of it but man that little guy moves fast! I'm sure he'll be bringing us many more laughs to come.