does donkey mails paid you.

India
3 responses

• India
29 Apr 09
Well thanks for starting this discussion.I have joined donkeymails a few days ago and glad to read that this site does pay.I hope i reach my minimum payout as soon as possible.




• Australia
29 Apr 09
It is good to see the above responder has shown proof of payment. I have recently joined. I will be looking forward to reaching payout. It would be nice to add another site to my growing list of sites.

• Philippines
29 Apr 09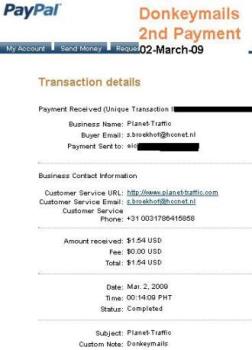 Since you reached the pay-out, it will be easy for you to know personally if this site is paying or not. Just follow the earnings withdrawal procedure in the site and you will know in a week or two if they are scam or not. Anyway, I received my second payment from the site last month (see attached image). I hope you will get yours soon too.