What is the difference between American Football and Soccer or Rugby?

United States
April 29, 2009 2:56pm CST
I am a big fan of football. I have been a New York Jets fan since Joe Namath was the QB. I have seen some soccer games when the world cup was on TV. I heard somebody talking about Rugby and thought it was the same thing, but apparently not. I am so confused. There is cricket, Lacrosse, jai alai, and all other kinds of sports I know nothing about. Am I just a football snob? It is my favorite sport and I love it.
5 responses

• Malta
29 Apr 09
In Europe soccer is very often called football too and it is played by two 11 a side teams. You have seen that so you have a good idea. Men's games are 90 minutes long (plus extra time) female a bi shorter, I am not 100% sure but I think 80 minutes Rugby is a contact sport and is played by two 15 a side players. A game is 85 minutes long. At professional level, referees can stop the game and request help from a fourth referee who is looking at the replay in case a doubt arises. Rugby scores are divided in two parts: the try which is when the ball is touched down after the try line and a conversion. A conversion is a shot at the goal posts. A try is 5 points and a conversion is 3 points.

• United States
29 Apr 09
I'm not a very big sports fan, myself. I think soccer is more of an English football. I don't know for sure. Rugby is probably an English sport, too. I'm from Alabama and like I said, I'm not a big sports fan. However, I like Alabama football. Here in Alabama, you're either for Alabama or Auburn. Which do you cheer for? Did you know that Joe Namath started out a s a Quarterback for Alabama? Kathy.

• United States
29 Apr 09
Hi Kathy, yes I knew that Namath started out with Alabama under Bear Bryant. You will probably throw something at me when I tell you I am a dyed in the wool OU Sooner fan. And I live in Arkansas. Not a big Razorback fan though. So you are SEC and I am Big 12. Can we still be friends?


• United States
29 Apr 09
Sure we can still be friends! I don't mean to keep repeating myself but since I'm not that big in sports, it doesn't matter to me who you cheer for. I always say to each his own. Do you watch football on television or do you prefer to watch it in person? I prefer to be there myself. I'm more of a musician, though. I prefer to watch the band perform. I played in the band when I was in high school. Kathy.


• United States
30 Apr 09
Football snob? I've never heard that before. Football to the Americans is pads and helmets, soccer to Americans is a sport, to anybody across the pond, its a religion. Rugby is for guys named Colin who don't care about their dental plan.

• United States
16 Jun 09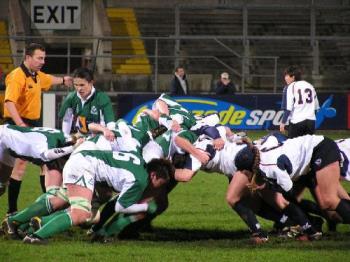 Rugby is a game that has the action of American football yet the players don't wear any padding like soccer.I have seen it only once or twice. The game starts with all the guys in something that looks like a huge huddle . there is a ball similar to a soccer ball and somehow they score. I am hoping to see a match and really learn this game sometime soon.

• Omagh, Northern Ireland
6 May 09
Rugby's a game for guys with funny shaped Balls

...The story goes that a Guy named Webb at the English School named "Rugby" when playing soccer picked up the ball one day and ran with it..the rest may be history..or made up..I dunno..

I wondered Why does the US call their game "Football" when only one guy gets to Kick it?! And then to make you Really confused,Ireland has a version called Gaelic football,which involves carrying the ball too,but with a mandatory bounce or pickup kick every few paces,and you can score a goal in a goalmouth or get a point by kicking it over the bar...And Australia has something similar known as "Aussie Rules"..Enjoy the Game!