If any What is your favorit Tattoo....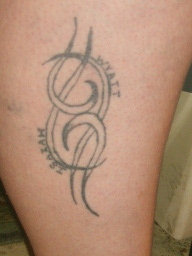 United States
April 29, 2009 5:05pm CST
If you have any Tattoo's what is your most favorite one.. I mean I know my Tattoo's have personal meaning to them include some pics if you can I have attached a pic of one of mine....
1 response

•
29 Apr 09
Hi sxrxnrr, I haven't any tattoos on me and I won't have it done as I can't stand the pain, what is that toatto mean? Tamara

• United States
1 May 09
Well it is a Tribal with my two son's names On it. I will soon Have My daughters name added to it. All the lines cross. To make the Meaning of the Tattoo shorter it mean the though My kids will live their own life they will forever be in each others as well. I Draw All My own Tattoo's I think Ink is very Beautiful. I look at them as a map to one's inner self. But that Is just my opinion so.... I know Alot of people feel that it is tacky or so But I am one that lives my life for me. I only Have One life so why not do what I want. When I die its not going to matter whats on my skin. I know I am a sweet, kind, loving person That is honest not only with other but myself as well. Tamara Thanks for your response and Happy Mylotting Dear.