What's the longest or coolest bridge you've been on in the USA?

United States
May 1, 2009 4:58pm CST
I have not traveled extensively but I have come across several noteable bridges. There is a very tall one on I-10 going through Lake Charles, LA. Of course going north out of New Orleans is a very long bridge. It feels like it goes on forever across water, but it's only about 26 miles! In southern Louisiana there is a really cool bridge stretching across the wetlands. It takes you up real high, then you can see out across the wetlands like a panoramic view. It is gorgeous! the bridges crossing the Mississippi are all impressive because it's crossing the Mississippi! :) Where is your favorite bridge?
5 responses

• United States
13 Jun 09
longest bridge-i think the double one crossing the chesapeake. coolest bridge-what can i say? brooklyn bridge. i wish our bridge had a path in it like that one does. worst bridge-the sakonnet near fall river mass. that thing scares me..it looks like it's held together with duct tape.

• United States
13 Jun 09
Lol! Duct tape?? whoa! Hey MS should be far enough north you don't have to worry about that! I used to live way out in the country and on the .75 mile driveway there was a little wooden bridge. When people visited for the first time they would call to make sure it was indeed passable! Some businesses wouldn't even come out there! I would love to travel to the Brooklyn Bridge someday! That would be great!

• United States
2 May 09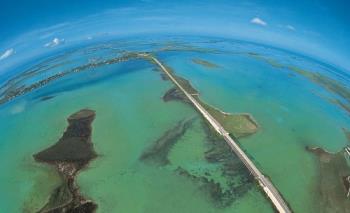 The 7 mile bridge down in the Florida Keys has got to be the coolest bridge I've ever been on. This is the longest continuous concrete segmental bridge in the world and the sights as you travel on her can't be beat. Below is an aerial view.

• United States
2 May 09
It looks like it's a beautiful drive! Maybe one day I can make it down there to see it for myself! Thanks for sharing!

• United States
12 Dec 11
Well to me, one of the coolest bridges I have ever been on would have to be the Golden Gate bridge in San Francisco. To me this is one of the coolest looking bridges. I do not really remember the view, as the last time I was on this one I was like 10, but it is an awesome looking bridge. Would Love to go to San Francisco again someday just to see and travel over this bridge.

• United States
13 Dec 11
I am sure that would be a very cool bridge!! There is a very tall one in Lake Charles Lousiaina that is really cool. It seems like it goes straight up forever! We used to see if we could hold our breath the whole way... major fail! lol!

• Garden Grove, California
5 Dec 11
hi macdingolinger for me its the GoldenGate bridge and being o n a bus going across it at two miles an hou r in a dense fog. I was aout 20 at the time. Also the trainbridge across the Mississipi at Lindcoln nebraska when the river was flooding and rain pouring down and the train crawled across slowly and carefully the last one across then the bridge was shut down. the engineer sent aides to tell all of us we were going to be okay but that the train had to slow down to even the stress on the bridge so it wo uld not collapse. I can truthgully say at 19 and in college i was super scared and an elderly man sat beside me and he held my hand until we got safely off that bridge the water was so close you could see the waves lapping. scary so scary. I am now 85 and still

remember that vividly



• United States
5 Dec 11
WEll, those certainly do not sound like anything I would forget either! I cannot imagine trying to remain calm with them telling me they had to go slowy to keep the stress down so that it would not collaspe! Yikes!

There is a really tall bridge in Lake Charles Louisiana that is really cool too... but it is cool because it feels like it is going straight up! We always tried to hold our breath the whole way because it feels like forever up and over it! lol! No danger of being too close to the water though!


• United States
1 May 09
There are two bridges that most stand out in my mind...probably because I have seen them the most and I really haven't had the joy of seeing many other bridges. Verrezano Bridge in NY. It was a historic bridge that lead to better advances in safety equipment for bridge workers. The thing is huge. Skyway Bridge, St. Pete Florida. The water ways surrounding the bridge make the bridge look so much more amazing.

• United States
1 May 09
Totally cool! I have been to St Pete Florida... by Tampa Bay, right? There's also a bridge sort of like that one in Galveston it takes you out to the island across the water and is beautiful! Thanks for responding!