UFC 98 Evans vs Machida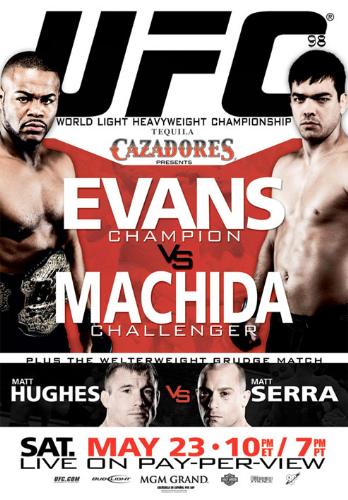 Manila, Philippines
May 5, 2009 1:02am CST
This will held on May 23 2009 at the MGM Grand garden Arena. If i will be asked on who will win the match between Evans and Machida, I'll go for Machida. Watching his previous fights and Evans as well will show you how both fighters take this sport seriously but not like Machida. Take note of Machida's record 14-0-0 The battle of the 2 Matt's (Serra and Hughes). I'll go for Hughes his techniques or fighting style will make Serra tap out. Who do you think will win the matches on May 23 UFC 98?
5 responses

• Finland
5 May 09
Also Evans needs a real Rampage Slam (Pride Style)...slamming some "cockyness" out of him...:)

• Manila, Philippines
5 May 09
Yes I agree! I also want to see Rampage vs Evans and see if he can still show his cockyness inside the cage.

• Finland
5 May 09
...Yeah Rampage is cocky too, but he accentually has a reason to be.

• Philippines
9 May 09
I've been looking for someone who made a discussion about this fight, and here it is!Watching both men go undefeated in more than ten fights is really an interesting match-up. But based from style and experience, I think I will go with Machida on this one. He is very elusive and exploits any opening better than anyone in the MMA circuit. He can also light up the scorecard anytime he wants with his strikes. And his recent fights with Tito Ortiz and Thiago Silva have prepared him to fight against opponents who wants to make a knock-out night. I think Lyoto will remain undefeated and reign as the new champion.

• Manila, Philippines
12 May 09
Yes I agree and I think Machida will win this fight against Evans. The way Machida defeated Silva is not just luck as what other Silva fans out there is claiming, I believe machida can so it again and defeat Silva granting that there will be a Machida Silva II. But now UFC 98 is fast approaching more and more UFC fans are thinking that Machida will win.

• Manila, Philippines
26 May 09
Can't believe how Evans loose last Saturday. Although my bet goes to Machida, but Evans lost via K.O. At first I thought its gonna be a long fight because looking at it both are waiting for an opening but patience finaly paid up for Machida. Hughes proves to everyone that his experience with MMA is his best tool against everyone. He surely showed Serra that hes better in terms of ground game.

• United States
5 May 09
I go with the brazilian jap. I feel this will end on 2nd rounds. Machida is just unstoppable and i think nobody can beat him right now. Im a fan of Hughes since back then. I believe that his era is past out and this generation is tough to beat. Is he a hall of famer already?

• Manila, Philippines
6 May 09
Nope. He's not yet in the list of Hall of Fame, but I think he will be since he has a lot of contribution to the UFC. Take note that he is a Coach in the Ultimate Fighter where succesfull fighters will be given a chance to fight in UFC.

• Philippines
28 May 09
wahahaha!!!evabs just deserve what happen to him on his last fight with machida..its really a good match..but i think he is not good enough with the Dragon!!!i dont like evans from the start..he is a real show off guy..like on his last fight with the iceman when he knocked lidell down..he is a real show off then..i doubt it if he even landed a hard punch with that speed of the Dragon machida..hehe

• Finland
5 May 09
My Head say Machida. But my heart Evans, not that i like Evans, becouse i believe Jackson vs Evans is a better pairing for him. ....WAR Rampage :)