Does this amount to idol worship????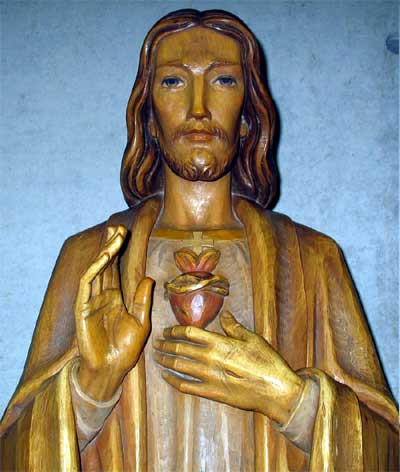 India
May 5, 2009 1:03pm CST
Well one of my friends came up to my place and he had been converted to New life sect recently and he came and saw my alter and said that..... "You should not keep all this images and statues of god on the alter as you are worshiping idols" I was a bit confused because I have seen statues and images of god placed on my alter right since I was small......so I had no clue what he was saying..... Even in our church we see the cross placed on the alter, so can't really make out if we are really worshiping idols or what???? I just feel that if we look at images of god or a cross on the alter, it helps me in remembering the passion and suffering of Jesus......it helps me in getting a better experience when I pray...... Is it wrong to place statues and images of Jesus on alter......I am a bit confused, can someone please shed some light on this......
6 responses

• United States
5 May 09
I do not think they are Idols. Your not actually praying to them your praying to god. They are like you said reminders of what Jesus went thru so that we could have an eternity in heaven. I have heard things like this said before and to me its kinda like when some people take everything out of the bible as context and as we all know there are many confusing things in the bible because different verses say the same but different things. I mean we all know right from wrong and everyone has there own interpretation and personally I think as long as you do the right things and repent and pray and you only have One god the father almighty then you are doing what god wants from you. I too was raised with crosses on the alter and such things I mean we never bowed to the cross itself or anything. But I agree its a symbol that reminds you of the sacrifices made for you.

• India
6 May 09
Thats precisely what I feel jojotheoz, I don't actually bow down and worship them......but it reminds me of the passion and suffering which Jesus went through......and it inspires me to pray more and have a spiritual encounter with him.....Thanks for responding......

• Philippines
6 May 09
A friend of mine has the same views of your friend. And i am like you, i grew up with seeing all thsoe statues in our church and even in our homes. The thing is that catholics have images, like Images of Jesus and all other saints, i used to believe that they are really them , but later on they are just there to remind of us Jesus or Mary or the 14 stations. and personally i do not find anythign wrong with it because i do not pray to those statues but i pray directly to God, those statues or images for me are like reminders of what Jesus had been through and it does not change my faith, i guess my friend is trying to say is that i am doing idol worship because i pray in front of the images but i know myself that i can pray anywhere, anytime and my faith is not measure through these idols. do not be confused, you should know where your faith is.

• United States
10 May 09
I'm Catholic, and I can tell you that we do not worship the statues we see in church or the ones we might have at home. They're there to remind us of the actual people who lived and worshipped God before us--we don't give them the adoration due to Jesus, as that would be idolatry. For those that are still unsure about images, let me ask you this. Is it wrong for you to have pictures of your family around your home? No...most people I know do have such pictures. Do we worship the pictures? Not at all--they just remind us of our family and friends. It's the same concept in Catholicism. Happy MyLotting and God bless! :D

• San Jose, California
13 Jan 22
Yes that is our culture. The friend should learn more about other cultures.

• Philippines
5 May 09
This is our belief: The danger in having graven images is that you tend to accord it with the treatment you would God and God is not those images. When you feel the need to kneel before it and pray to it, then you're in fact worshiping it and that is idolatry. However, you are not of the same faith. The topic should have been introduced by your friend with more tact. While we have the responsibility to share our faith, it is never okay to be offensive. If you have more questions regarding this, feel welcome to send me a message. :)

• India
6 May 09
Thanks wahmivy, I did feel offended when he said that to me directly without a single sign of empathy.......but i feel most of the response here does state that when we make those statues and images our priority then we are indeed in idol worship.....thanks for responding.....

•
5 May 09
In the olden days it would have been a crime for you just having those idols as those were a symbol of having a foreign God. But literally, what God meant was that there should not be anything in your life that takes first place before him. As long as you dont bow down to those idols or think of those idols as God then your fine. God wants you to put him first in everything that you say, do, think etc. He wants to be the supreme God in your life. But if those statues inspire you to pray more then by all means keep them there as long as when you're praying its to God and not to the statues. That's all that matters.. Keep praying though and ask God if he's happy with you having them statues around and whatever God answers you just do it.. Hope this helps. Happy my lotting and God bless you xx

• India
6 May 09
Hi jellymonty, Thanks for the response......i agree that when we give these images and statues the first place and pray and bow down to them as god.....then it is a sin.......but i always look at them as a source of inspiration and to get a clearer picture.....i don't really worship them......thanks for the response.....

• United States
8 May 09
john 4 christ ! an idol is an image, a representation of anything, or a symbol that is an object of passionate devotion, whether material or imagined. generally speaking, idolarty is the veneration, love, worship, or adoration of an idol. it is usually practiced toward a real or supposed higher power, whether such power is believed to have animate existence (as a human, an animal, or an organization) or is inanimate ( as a force or lifeless object of nature.) idolarty generally involves some form, ceremony, or ritual. the hebrew terms used to refer to idols often highlighted the origin and inherent worthlessness of idols, or they were derogatory terms of contempt. among these are words rendered carved or graven image(literally, something carved out); horrible idol; vain idol (literally vanity); and dungy idol. idol is the usual rendering of the greek word ei'do lon. the scriptures do not sanction the use of images as a means to address god in prayer. such a practice runs counter to the principle that those seeking to serve god must worship him with spirit and truth. need more info?

• United States
10 May 09
How, then, did people centuries ago learn their faith? Most of them were illiterate, and only through pictures did they learn about Jesus and His life.

• San Jose, California
13 Jan 22
@coolcoder
that is true, they used pictures and listened to the sermon.

• Philippines
6 May 09
please read exodus 20 verse 4, john 4 verse 24...feel free to leave me a message... stay blessed!

• India
6 May 09
I will certainly read that........thanks for responding.....