I love coke

8 responses


• United States
7 May 09
Hands down a coke fan. Pepsi is good but it just seems to be sweeter for some reason and that's fine if that's all there is but sometimes I just need me a coke and some peanuts or a kit kat. Call me crazy but coke is scrumptous.

• Philippines
6 May 09
im a coke addict... lol... i like coke's taste better than any other sodas/softdrinks. if i can get to drink coke every meal, i would be very happy. i love drinking coke especially when it is very very cold. even my family prefer coke better than anything else. and i love coke's commercial way better than pepsi's.

•
6 May 09
very good choice!!! we love coke in our house! Its what we spend most of our money on lol


• United States
6 May 09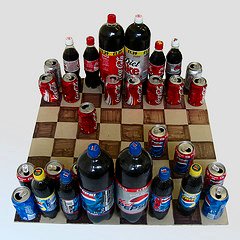 I'm a rabid Coca~Cola drinker. I drink 2 16 ounce bottles every day. I canNOT stand Pepsi. I have a really good friend here on the lot who is the exact opposite!!! You may be hearing from him soon....putting in his vote for Pepsi!!!



• United States
6 May 09
I actually prefer coke over pepsi. I think it is sweeter. I used to drink alot of soda but not so much anymore. 9 times out of 10 I drink coke.