What kind of food can be used to feed stray cats?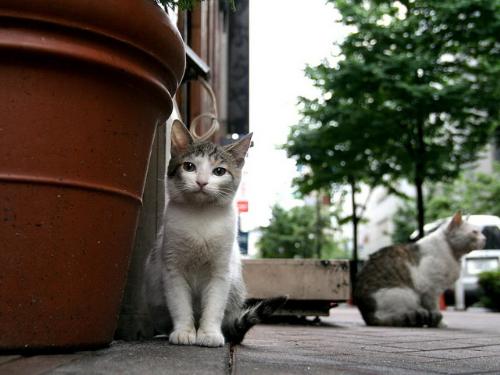 China
May 6, 2009 9:58pm CST
I lived in campus and there is lovely stary cats stay in front of my dormitory building everyday. I found there are several other cats also live in my college. They seem have own territory each, because in front of every girls' dormitory building's gate we have one "cat guard". Sometimes girls feed them with a litter food they bring from our mess hall. For it is my last year in college, I want to do something for these animal friends who accompany me for such a long time. I desider to feed them but I have never keep a cat before, so I do not know what kind of food they like. I know cat chow may be the best choice but I am afraid I do not have so much money. They also like ham sausage and sometimes my friends and I buy some for them but still a little expensive for a longtime feeding. I heard some people who used to feed stray cats use boiled scale and piscine intestines. I am not sure about that and there is no kitchen in my dormitory. what other kind of food can be used to feed cats? Do you have any suggestion about this?
5 responses

• United States
8 May 09
Would you be able to talk to your fellow students, and perhaps even start a college club, to collect donations to help the cats? You might start your own trap and release program, and talk to your local veterinarians. See if they would be willing to spay and neuter the cats you bring them for free, or for a large discount, to help your group. When you graduate, you could pass the presidency of your "college cat rescue society" on to new students who love animals and are starting school. This way you not only have helped the current cats, you have started an organization that will go on and continue to help the stray cats on campus. For food, find a balanced dry food for them. Your local cats will be healthier with a regular, balanced diet. The donations your organization/club collects can also be put toward this food. One thing you don't want is to see these cats continue breeding and producing more and more cats ... or there will eventually too many cats for your new rescue society to help. [feel free to see my profile for my pet-care credentials]

• China
8 May 09
It is a good idea to start a college club. You are right, I can not only help current cats and start club is a good choice. I can find more friends who love cats and willing to help cats. And even I graduate from college, there will be other students take care of stray cats in my campus. I am afraid there is not enough time for me to start the club but I will talk with my adviser and younger students, I think they may be interested in this idea.

• United States
8 May 09
I do hope this works for you! Good luck. You can graduate proudly, knowing you have left behind a place that is safer and healthier for the cats, thanks to action you have begun. I'm proud of you! :-)

• United States
7 May 09
That is great that you want to help out these cats! I am sure they love you and have gotten attached because you are generous. Since you arent able to buy cat food at the moment, bringing them scraps from the dining hall is a good idea. I would stick to mostly meats. Whenever you get yourself something to eat, save a little bit of the meat at the end to give to the cats. Something that most cats like as a special treat is cheese. I wish you the best when you leave college and adopt one of the cats!


• China
7 May 09
I am not sure if I should do as you said... There are not many organization which help stray animals to find a home in my country and it is not allowed keep animals in my dormitory. And the most important reason is I have watched a TV show which said the stray ainmals who are not be adopted will be euthanatized. That is terrible... If it is true, I would rather to call for more students feed them in campus.

• Philippines
12 May 09
Basically, cats will eat anything. Our cat doesn't have a special breed and although we buy it cat food, it also eats human food - as long as you don't put MSG in it then it's good. MSG is quite dangerous to animals especially in big quantities although it is not as dangerous to humans (you also shouldn't feed it chocolate). What we usually do is mix rice with sardines - the sauce + the fish is a good treat for them then the rice makes it a big serving. If we want to feed the cat a lot, it's usually rice mixed well with a viand - cats aren't very picky :) Thanks for the response on my discussion!

• United States
7 May 09
Can you not just get them dry cat food?