Puppies and Parvo...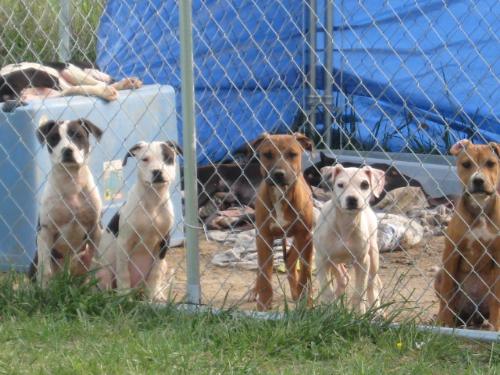 United States
May 7, 2009 7:18pm CST
I sold two puppies yesterday. When I had my back turned to the kennel, the guys that bought them put a third pup in their car and drove away. I know that she didn't run away because she had followed me around the yard all morning. One minute she was there, the next she was gone. So I know for a fact that they took her. So these are the kinds of people that I'm dealing with. Well, I got a text message from one of them today that said they wanted their money back because they took the "two" puppies to the vet after they got home and were told that they had Parvo and were "put down." I immediately asked them which vet they took the pups to, because I want to go and see this person. None of the oher pups are sick, and I vaccinated all of them myself. I am now a groomer, but I started out as a vet tech. In my experience, we treated the dogs that came in with parvo. We never just immediately euthanized. In fact, I never saw the vets do this. True, they lost a couple of the pups, but most of them survived. So, what do I do? Do I believe these people? I already know that they aren't honest. I want to talk to this vet. If the puppies did have parvo and were put to sleep without even attempting treatment, then I wish they had just brought them back to me. I would have taken them to my vet. I don't know....
9 responses

• Canada
8 May 09
Well if you don't get a response from your text message asking who the vet was, consider yourself lucky, I suppose. These people are clearly pulling your leg. That is quite obvious. They also stole a dog from you. May I suggest something, should you sell anymore dogs? Ask the potential buyers to fill out an application that includes full name and address and state that you want to make a home visit before releasing any dogs. Justify this by saying that you want to be sure of the dogs well being. This way not only can you check out where the dogs are going but at leat you have an address on file. If these people get back to you, stating that they want their money back but are not willing to provide a name and contact of the (bogus) vet, just call it as you see it. Tell them that not only did they swipe your dog but they are lying so to get their money back. I would. Then if they want to get the authorities involved, good! They feds can get the vet information to make conformation that they pets were put down. Even though you and I know otherwise. These people are lying. I wouldn't loose sleep over it. Just be more aware and take precautions next time so to have yourself covered.

• United States
8 May 09
There will be no next time. I didn't plan on having any puppies yet, I went on vacation and the dog sitter didn't follow my instructions to keep my dogs apart. I have already had both girls spayed. The last litter that I planned, though, I did have the applications AND a contract. I even made copies of the buyers' IDs. I did not want any shady people having them. And I turned quite a few people away. I had to take one woman to court because she did not follow through with her end of the deal. I am not in this for the money, I had the pups because I love the breed. When I took these pups to the vet, he said that everything was ok. And I still have not heard from those people.

• Canada
9 May 09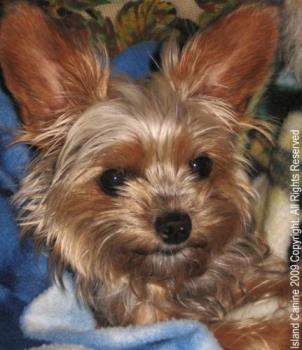 I am really sorry to hear of this mishap, with the sitter but also the people who tried to take you for a scam. You sound like a very reasonable and responsible man/breeder/handler. I feel that you likely wont hear from these people again and that they realize that you are not one that can be taken by their games. I would write this one off as experience and good for you for being so diligent with your other litter in having a contract and copying their ID's. What breed of dogs? I got my girl spayed right after her first heat. Later, I see the cutest video on YouTube of a Maltese having puppies. It was so sweet I cried and then almost regretted having my girl spayed. Once my head cleared of the warm fuzzies, I came to my senses. I would not have to worry about the puppies and whether or not they were being well taken care of. My girl is a Yorkie, Shitx Tzu and Maltese cross. Beautiful looking little dog. Looks almost completely Yorkie but has the gentle disposition of a Shitz Tzu and a very pretty Maltese face/nose. She would of had beautiful babies should I bred her with the right male but I am a promoter of adoption. No offense to responsible breeders. Just isn't my thing. When God made my girl he threw away the mold. She is one of a kind. See her photo below. More on Roxy here: http://www.islandcanine.weebly.com I wish you the best and that this experience is soon going to be completely behind you.

• United States
8 May 09
Demand proof before giving these people their money back. I know from recent personal experience how severe parvo can be but I also know that many pups survive with treatment. I treated my dog at home. If these people took the pups to a vet there will be a record because the test for parvo is not done for free.

• United States
8 May 09
I will. If it was severe enough for them to immediately be put to sleep, then shouldn't they have been actig sick? There was no vomiting, no diarrhea, no loss of appetite, and they were as energetic as ever. You should see the way they were running around the yard yesterday...and all the days before that. I don't get it. I think they are trying to pull one over on me. I still haven't received an answer to my text when I asked them what vet they saw. I really don't think I will get a response.

• United States
8 May 09
I don't think you will either, especially considering that they stole one of your puppies to begin with. You are exactly right, if parvo is caught early the pup stands a much better chance of survival because you can start maintaining it's hydration and giving it antibiotics for secondary infection sooner. Immediately putting the pups down instead of returning them to you makes no sense whatsoever. Sounds like a scam to me.

• United States
8 May 09
I would not give them their money back at all. If those puppies had parvo you would have known about it, it is not something that just happens with no warning. Not only that but a vet would never just put a dog down unless there was a request. You aren't going to get the oether dog back so if they call again you should tell them that all sales are final.

• United States
8 May 09
I still have not heard anything from them. I don't think I will. It has been hours, and when I asked them what happened earlier, they responded within minutes.


• United States
8 May 09
How awful! I would not trust them for a second; You know they are out to scam you already by stealing the third puppy, I'd demand to know the name of the vet and see some sort of proof before giving them a dime back; You should tell them that they owe you for the third puppy they stole; one should not have to have surveillance on the puppies you sell but then maybe again you'll have too; really sad you know? good luck to you!

• Philippines
8 May 09
Clearly they wanted to scam you, coz they stole one extra dog from you which means they didn't pay for that one. And now they want their money back! Perhaps they thought you'd react right away when they said the dogs were diagnosed with parvo. Lol, they should've known that anyone who sells puppies knows what things there are to take care of before a sale is made. Cheers~

• China
8 May 09
I think you should make sure whether the diagnose of parvovirus infection in your puppies is right.If your puppies really have parvovirus infection,they should have some clinical sympotoms like depression,diarrhea,vomiting.The diarrhea usually contains digested or partially digested blood giving it a pungent odor.Affected puppies often have very low white blood cell counts.Severe dehydration can occur rapidly with this illness.Ther are also some methods that can help the puppies surive.Good luck!

•
30 Jun 09
I brought the pupies. I only kept the dog for only 10 day. Last weekend, my dog got Parvo. I was shocked and stressed at this momment. The vet said my dog could die. I was sick worried about her because I brought the puppies 10 day ago, In the car, she vomit all the time and got diarrhoea. So my friend took the dog out and shouldn't be allowed to go out because she havent got Vaccinated yet but just out of the blue, I got no insurance yet because I thought i will sort it out for insurance when my dog will be 12 weeks. I only kept the dog for 10 days. I am scared to lose her. help me what should i do. She is now at hospital!

• United States
12 May 09
I'm sorry about what has happened. I will say this if they make these allegations I would want the vet records and the vet so that I could talk to the vet and he can describe the puppies to me so that I knew they were the ones I sold to these people. Most likely since you saw them still the third pup they are shady.. I think that they probably bought them from you and sold them for more than you sold them for making a profit and getting greedy by saying that the dogs had parvo and that way they could recover the money that gave to you. Unfortunately if they don't produce vet records or supply a vet then I wouldn't give them jack and sh!t .. Opps and jack just left town. Shakes head. I hate people like that ..That is the main reason I could never be a breeder I would rip someones head off or the puppies would never leave. I'm to much of a mother.. LOL!!! I have a male that I'll stud out after I get him the hip and eye check and he checks out but I would never start a business breeding. i couldn't do it.