How to upload payment proof?

Philippines
May 9, 2009 3:26am CST
Hi friends. I want to upload some of my payment proof and want to post it in my blog. I just started making my own blog and want to post some of my payment proof from ptc sites where I already received payments. My payment proof is the email massage I received from paypal. I was trying to upload that email message but it can't be uploaded because the message keeps appearing that the file is not valid. How can I make that email message valid to upload? How did you upload your payment proof? I hope you can help me on this matter. Thank you friends.



3 responses

• Singapore
9 May 09
Can I check if the file you are uploading is an image file (such as .gif or .jpeg format)? If not, you have to first make an image file of the e-mail. First of all, open the window with the e-mail. Press the PRT SCN button (it's found on the top right hand side of the keyboard). Go to the "Paint" program in your computer, and paste the image (CTRL + V) on the Paint program. If your e-mail and details can be seen, do mask it out with the paintbrush, before saving the image (choose either .jpeg or .gif format). Once you are done, try and upload again on your blog. However, if it is already an image file, and it's still displayed as the file not valid, you can try to rename your file (eg. payment.jpg), and upload it on the blog again. If all does not help, you may want to send an e-mail to the blog hoster.

• Philippines
9 May 09
Hi gcorp09 I try what you said. I open my email message from paypal I press the PRT SCN then I open my paint program did (CTRL + V) but there's no message shown. I can't bring the message to the paint program application. What do I need to do to bring the message there to be able to edit it?

• Singapore
9 May 09
Ok, may I know if it is a computer or laptop you're using at this moment when you are trying to do the PRT SCRN button? I previously have this problem too as I'm using a HP laptop. Later, I found out that I have to press the FN + PRT SCRN buttons to work. Do advise soon...

• Philippines
9 May 09
Yes I'm using HP laptop and now I tried to use that FN + PRT SC and now it did working. I can now edit the message in the paint program. I think I can able to upload my paymetn proof now. Thank you very much gcor09 you really did my day.

It was my long been problem thank you very much for helping me to solve and fix this problem. now I feel relieve hehe.

Thank you very much friend.



• Australia
9 May 09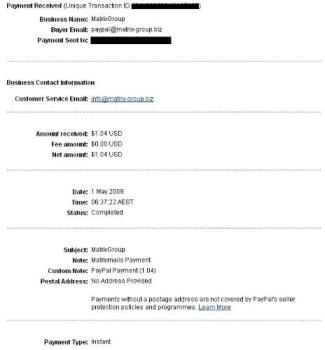 All I do is do a screen capture. I then open paid and copy the image into paint. I edit the picture to take private information out and crop it. I then save it in a Jpg format. Below is an example of what I do every single time.

• Australia
9 May 09
The best response has told you need all you need to know.

• Philippines
9 May 09
open you email coming from paypal and then pres print screen button on your keyboard. go to paint and press "ctrl+v" to paste it on the paint. and there you go. edit it and save it as a jpeg file. then you can upload on your blog