Thank You All For Your Prayers Regarding Willie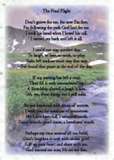 United States
May 11, 2009 12:42pm CST
But I'm so sorry to have to inform you that he passed away last night at about 7:15. Sue said she asked God to please let her have him for mother's day and He did for most of the day. She was holding him in her arms as he left this world and went into the next. She said she just cried and cried like a baby. Willie was close to his mother and his grandmother and had talked to his grandmother on Saturday and told her he loved her and that he knew he was dying and wanted to say goodbye. I cannot imagine being in his grandmothers shoes in hearing her beloved grandson say those words. My mom said she was crying so hard when she told her that mom could barely make out what she was saying. Now I'm asking for you to pray for Sue to receive God's grace and love as well as the strength to carry on. Even though she knows he's in no more pain and is at peace in the arms of God it's still hard to lose her good son. BTW, I thought she only had two sons but it was three, Willie was the oldest and the one who did right in this world. His two younger brothers are the one's who are in trouble all the time because of drugs and alcohol. Maybe if we all pray for them as well, they'll come around and be good son's like Willie was. It sure wouldn't hurt, right? So let's pray for Sue as well as her two remaining sons in hopes all will be better. Thanks to all of you for your prayers!! It was God's will to take Willie home. May He Rest IN Peace. There are no questions here and I think and hope that mylot will respect that.
9 responses

• United States
11 May 09
I am sorry for your friend's devastating loss. I do hope and pray that God will give her and her the rest of her family strength, healing and peace. Willie will be watching over them, maybe that will help the other two sons.


• United States
12 May 09
I wouldn't be letting him hug me either. I know you are a classy lady and will deal with whatever this fool does in a classy manner. Say "hi" if you have to, but otherwise find a way to not be near him, he walks over then you see somebody across the room that you MUST speak with (even if nobody's there). If he really wants to talk, he can do so some other time (complete with apologies). Sorry he's been such a jerk to you.

• China
12 May 09
for your friend what happend and regret very much regret,i will pray every day his family safe,happy day.....his two sons will be a bit happier in well-being!!!



• United States
13 May 09
Thank you very much. I hope Sue is able to go on some how without her son but it's going to be a long hard road for her to do.


• United States
13 May 09
Thank you tammyr. I've been under so much stress lately that my mouth hurts where the teeth weren't even pulled. If it's not one thing, it's ten. Like our Canadian friend, she has a migraine and I'm working on one and I haven't had one in a few years so one is due. I agree, I hope Sue finds peace in her awful time.

• United States
11 May 09
May Willie rest in peace and love in his new Home. My prayers are with Sue and her family. They are also with you hon as I'm sure this has been so very difficult for you too. You are such a good friend to keep them uplifted and to provide us with all the updates. Thank you hon. Sending lots of love and hugs your way.....Carryl

• United States
11 May 09
Thank you Katlady. Like you, my prayers are with Sue and her two remaining sons. Sue is all torn up over this. It will take a long long time for her to really be able to move on with out that zombie like state she's going to be in. She is such a sweet lady who just laughs all the time and just enjoys life so much and then to be dealt such a blow. I know we're not to question God but we are humans and we do wonder why this happens especially to the better ones on this earth because it seems God is taking all the good home to be with Him and it kind of scares me because that's what the bible says is going to happen before the end of time and the prediction is December 21, 2012. Makes me wonder that's for sure. Like I told my mom, I'm okay with that as long as God takes my animals first and not let me leave them any of them behind. Take my animals first before taking me. I'm with you, may Willie rest in peace. Thanks so much hon!! Hugs!!

• United States
13 May 09
i'm sorry about your friend willie . it's hard to let them go but at least he is not suffering any longer. my prayers & condolances to u & his mom.


• United States
14 May 09
it will be very hard on her. i can't imagine losing one of my children. i have always had a fear of that. my sister was killed in a car wreck when she was 17 & i have always worried about my sons, still do & they are grown. i will say a prayer soe sue right now. hope u are feeling better. hugs, jo


• United States
13 May 09
Thank you zandi. So am I. So am I. Please pray for Sue, Willie's mother for she's so heartbroken. She's such a sweet sweet lady and doesn't deserve to lose the son that she loves so much because he was such a good good man.

• Australia
12 May 09
I am so sorry for Sue, what a loss! I know as you say it is God's will but why? Why do these like this happen? He had a lifetime ahead of him... I will continue to pray for her, that she find the strength to go on without her beloved son. Willie spoke to his grandmother and said goodbye; I can't imagine receiving a goodbye call from a loved one who is dying. My mother in law who lived along way from us phoned my husband a couple of days before cancer took her and she passed away; he has never spoken about what was said during that call but it must have been heart breaking. Rest In Peace Willie and condolences to Sue and her family, I will keep the prayers going...

• United States
11 May 09
This is heartbreaking. I said a prayer for Sue right away. I can't imagine the pain of losing a child, then for it to happen on Mother's Day. Mother's Day will never be the same for her. Its so sad, hopefully her other kids start being right.

• United States
12 May 09
No it sure won't be. I can't imagine being in her shoes right now. My heart just aches for her. Like you said, hopefully her other two will straighten up and do right. Time will tell. Time will tell. How are you and your bunch doing? Have things finally settled down? I'm glad you're putting your foot down because after all, it is YOUR home.

• United States
11 May 09
I am so sorry to hear that!! They are definitely in my prayers!!

• United States
12 May 09
Thank you Thoroughrob. I was really hoping for a miracle but God had other plans for him and took him home. I know he's in a much better place but I feel so sorry for Sue and her mother because they so loved Willie. They love the other two too but wish they would straighten up. Who knows, maybe they will now. We can only hope.